5 Tips to Make the Sale
So you hooked the bride. They saw your ad in a magazine and went to your website, met you at a bridal show, or got a reference from a friend. However they found you, it's now your job to make the sale. Now that they're hooked, how do you seal the deal?
listen
We know you're tired of hearing it, but millennials don't want to be sold to. That doesn't mean that they don't want to buy. It just means that they want to be seen as a person and not just a dollar sign. In this new era of selling, you have to relinquish your urge to talk and listen instead. Let them do the talking. Let them tell you their price point, expectations, and vision. Millennials are more inclined to hire someone who cares about their priorities and opinions and listens to what they have to say. They won't hire someone if they feel like just another number in the lineup or just another thing to get done on your check-list. Make them feel like their business matters.
be the expert
Most of the couples you'll be talking to have never been married before. They have no idea what they're doing! They need someone to take charge and educate them. Walk them through the process step-by-step, tell them how their wedding day will go, and let them know about stories and experiences you've had in the past. If they come to you with an idea and you've tried it before with bad results, offer them different ideas, trends, or solutions. If they come to you with an unrealistic budget, tell them in a polite way that they should reconsider and possibly raise their budget to get the results they want. They're getting their ideas from the internet, which God knows isn't always reliable. You need to step up as the expert to replace the unrealistic ideas the internet is giving them.
be a friend
On the other side of things, you also need to be a friend to the bride and groom. (The slope between an expert and a friend is a tricky one to walk. Tread carefully.) By friend, we don't mean go out for drinks and have movie nights. We mean that, while it's okay to give your expert opinion, you should also support their ideas and vision. So having 6 chandeliers hanging from trees is a bit outside their budget? Encourage the couple by supporting their idea and offering them new inspiration. "I love that new trend and you're right, it would look incredible at your venue. But what if we did twinkly fairy lights instead? They're more cost-effective while still giving that character and warm glow!" As soon as your bride or groom feels silly for offering up an idea, they'll withdraw and possibly hire someone else. Make sure they always know that their ideas are welcomed and encouraged by supporting their suggestions!
---
Need help making the sale? we can help!
---
write a thank you note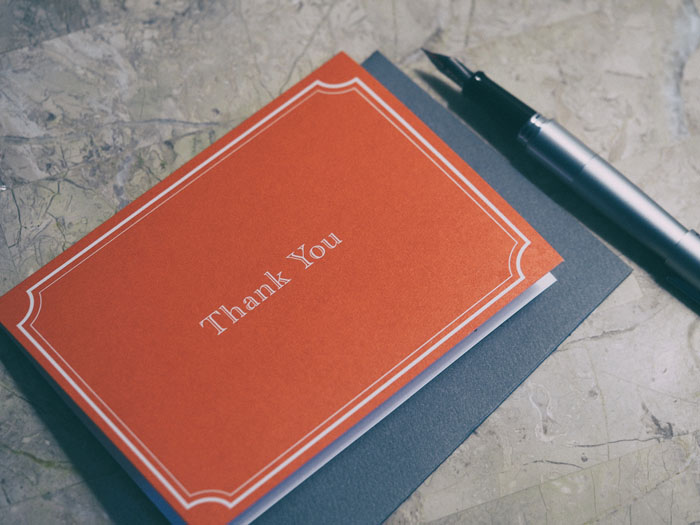 After meeting with the couple, write them a thank you note. It's such a simple gesture that goes a long way. Don't send an email. Don't type up a letter. Get a good, old fashioned blank card and hand-write a gracious note. Simply thank them for considering your services and for meeting with you. Include something you may have talked about ("I loved hearing about how you met on a flight to California!") and let them know that you're open to answering any questions they have. Offer to meet with them again or give them your cell number to text with any questions they think of. Writing a thank you note will give you a leg up over your competition and will stay in their minds as they're making their decision.
ask for the sale
Finally, if you want something, you have to ask for it. You cannot have the mindset that if they want to hire you they'll call or get in touch. You cannot hope that they'll purchase the largest, most expensive package. If you wait for them to make the first move, you'll be waiting forever. Millennials don't like to make decisions. It feels too final and they dread second-guessing their choices. They may procrastinate until the very last minute just to put off making the decision. If you want to make the sale, you need to get assertive. Meet with them, send a final email, or make the call and say "Listen guys, it's time to make a decision. I'd love to be your [insert vendor services here] if you think we're a good fit, but I want you to be comfortable with your decision, too. So if that decision isn't me, that's totally fine. But you need to let me know by this date."
A few things to note about that line: 1) make sure you let the couple know that you're fine with their decision either way. We all hate rejecting someone who obviously wants to hear a yes, and that's no different with this couple. Don't pressure them into choosing you or make them feel bad for rejecting you. Let them know that whatever their decision is is fine with you, it just needs to be made. 2) Give them a deadline. Having a set date where they know the decision has to be made will push them to have the conversation and get back to you.
---
Getting the bride from introduction to consideration to making a purchase is a hard process! Your advertisements, marketing campaigns, social media, and website have done their job to get you in front of the bride. Now it's your turn to step up to the plate. Use these 5 strategies to really listen to and understand your bride's wants and needs and stand out amongst your competition, and you're sure to see a spike in your sales.