June 2023 Cleveland Booth Design Awards
It feels like just yesterday that our summer wedding show came to an end. However, even though the event has passed, the incredible booth designs that stole the spotlight are still etched in our minds. We truly admire those who went the extra mile to create visually stunning and dynamic displays that captured the attention of every visitor. While we wish we could recognize all the outstanding participants, we are thrilled to present you with the esteemed winners of the Booth Design Awards at the 2023 June I-X Center Show.
Tall Oaks Event Complex
Tall Oaks Event Complex, who has participated in multiple shows, recognizes the significance of staying current and captivating, continuously seeking innovative methods to engage and inspire attendees. In order to achieve this, a team of more than 10 staff members worked together to reimagine their booth design for the June 2023 Show. The primary focus was on promoting the upcoming opening of their second venue located on the West Side of Cleveland. The booth featured uplighting and introduced a new, custom-designed Flower Wall adorned with a neon branded sign, attracting visitors for a memorable photo opportunity. To maximize their booth space, they added an extra table to serve attendees while offering a clever takeaway item called the "chocolate kiss in a shot." To generate leads in a fun manner, they organized a QR code scan-to-win contest, which garnered significant attention and offered participants a chance to win a Kate Spade purse. Their booth not only showcased their range of products and services but also provided an immersive and unforgettable experience for all visitors.
Kropp Photography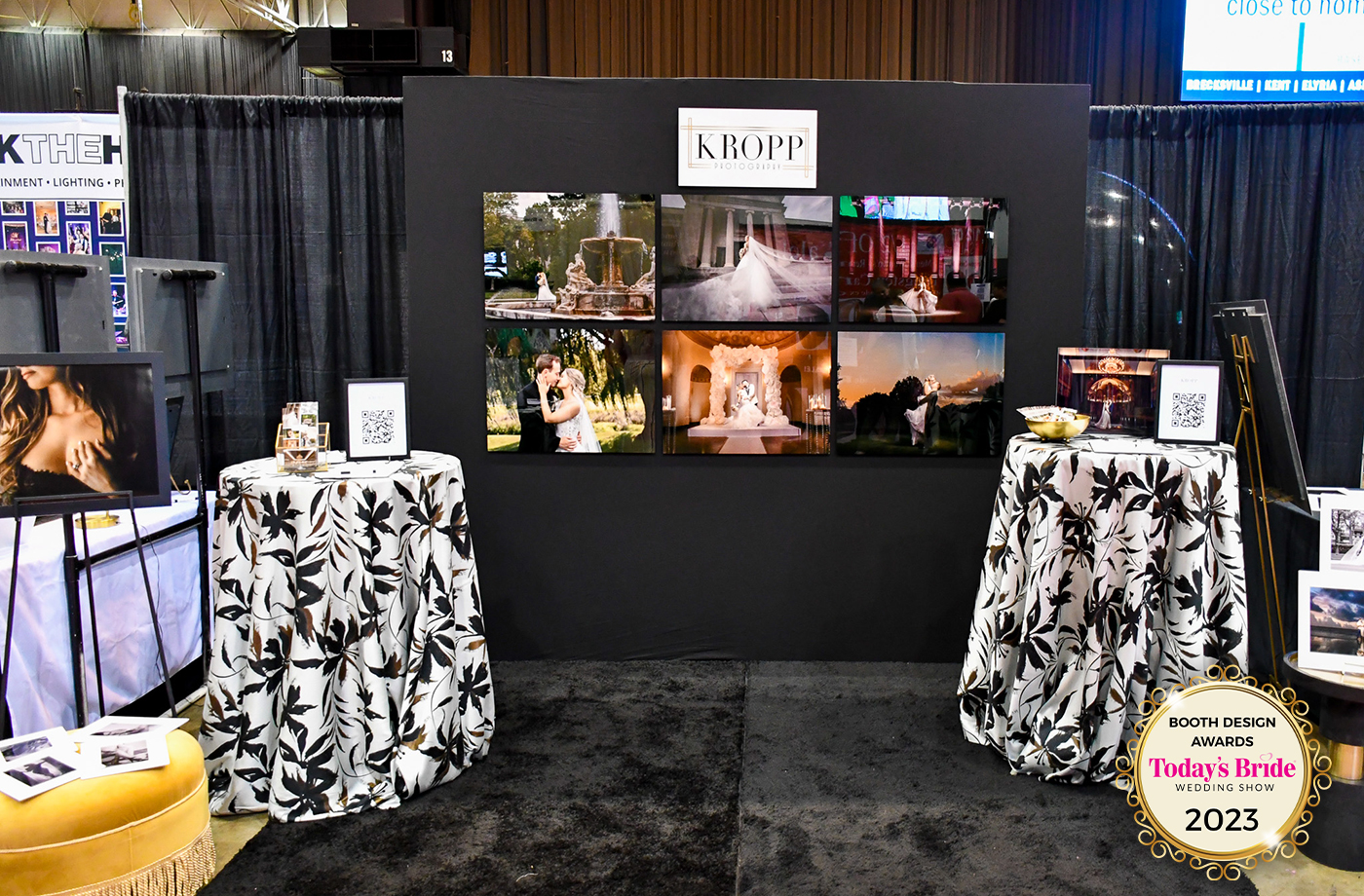 The husband-wife team of Kropp Photography worked hard to reflect their personalized luxury wedding photography experience into their booth design. The wall of photography art was stable (thanks to laboring hours during set-up) and appeared floating with the seamless line of the black carpeting. Add in upscale linens, a velvet fringe ottoman, and gold accessories — their luxury brand stood out as the backdrop of their talents and warm personalities. The tables showcasing their work on either side of the double-wide booth allowed them to capture the attention of attendees walking by either side.
STYLED BY ISABEL
First-time exhibitor, Styled by Isabel, showed no sign of being a show newbie. Isabel shined promoting her make-up and nail tech services with a vintage-glam vibe. Besides providing demos at the show, she engaged attendees with show specials and contests filling up the gold-spinning drum of hot leads. To engage more Instagram followers, she picked the lucky winners in a video posted at the end of the show day. She knew the importance of bridging the gap from in-person presence to digital post-show remembrance.
Courtney Marie Photography, Inc.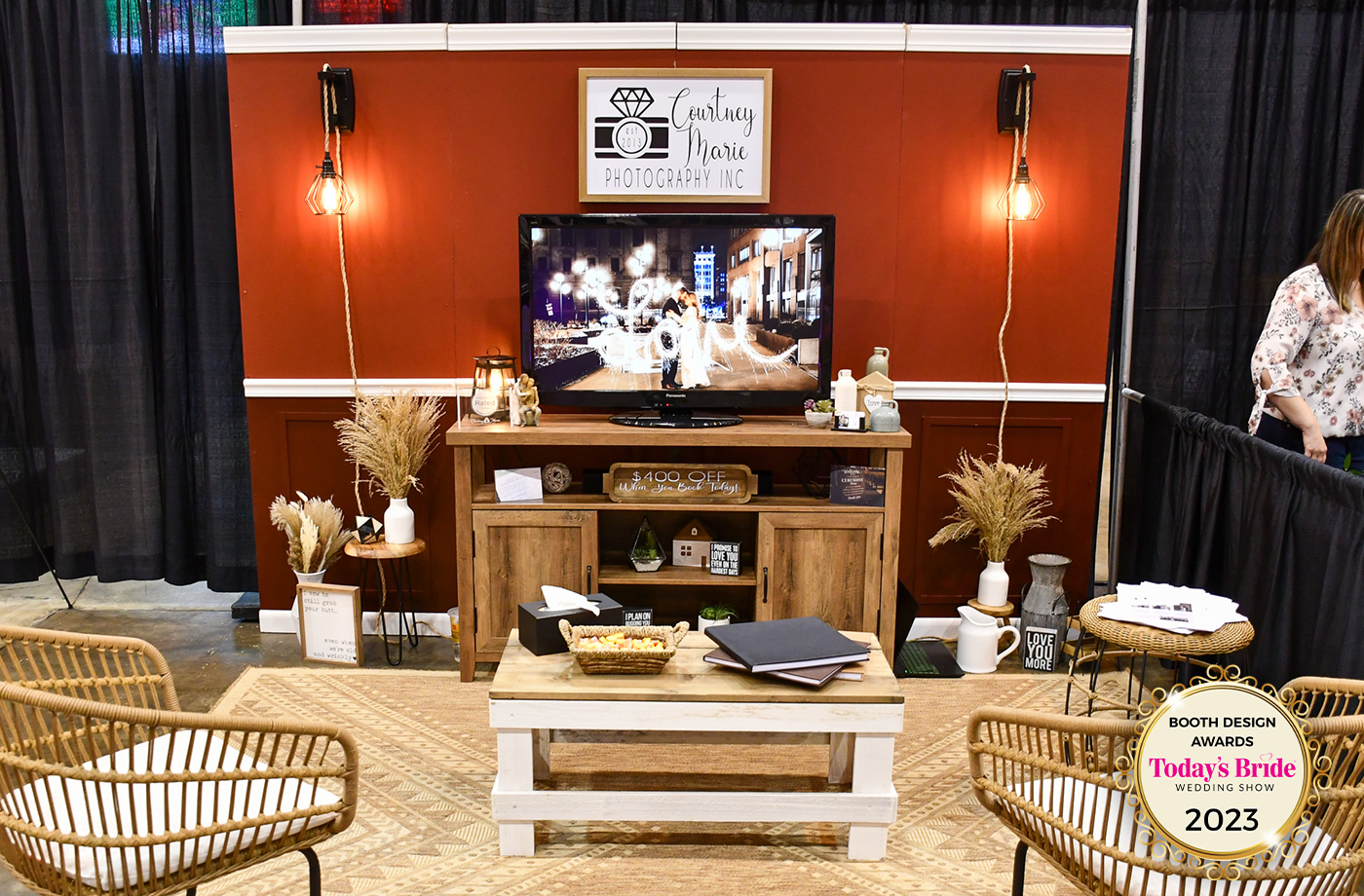 Courtney Marie Photography welcomed visitors with a cozy booth design that exuded a homely charm. From the inviting backdrop to the captivating TV display featuring her impressive portfolio, every detail harmonized with her theme. It was evident that her aim was to create a comfortable atmosphere for discussing the photography needs of attendees. And as an extra treat, she offered attendees who stopped by complimentary starburst candies to add a sweet touch to their experience!
Paige Mireles PHOTOGRAPHY
Paige Mireles Photography skillfully translated her photography style into a captivating booth display that emanated a moody and candid vibe. Showcasing an abundant collection of photographs and portraits, attendees were treated to a glimpse of the magic Paige could capture on their special day. The thoughtful inclusion of unique details, such as the skull planter, a versatile trunk-turned-display table, and the striking black-and-white carpet, seamlessly tied the entire booth together while infusing it with Paige's distinctive personality.
honey lace & Lavender bakery
Making a grand entrance, Honey Lace & Lavender Bakery presented a booth design that effortlessly drew in attendees, mirroring the smoothness of the buttercream frosting on their tempting mini cupcake samples! The seamless layout ensured a delightful flow of visitors, capturing their attention and inviting them to indulge in the bakery's delectable treats. A prominent company sign proudly proclaimed their identity and expertise, while an array of photo samples showcased their mouthwatering creations that were disappearing in a flash from the displays!
Tailor Sage BESPOKE & TUXEDO RENTAL
Tailor Sage Bespoke & Tuxedo Rental stole the spotlight at the June 2023 Today's Bride show with cutting-edge technology showcased in their booth. Attendees couldn't help but be drawn in by the irresistible offerings! From the array of impeccably dressed mannequins to the captivating large digital display enabling customizable suit designs, the booth was a sight to behold. To further entice visitors, they provided a wide selection of fabric swatch samples for exploration and inspiration.