March 2023 Akron Booth Design Awards
The designing of a bridal show booth is crucial to attract potential customers and stand out from competitors with a brand they'll remember. The following exhibitors from the March 5, 2023 Wedding Show in Akron, Ohio did just that. These well-designed booths were visually appealing, clearly communicating the brand message, and providing a comfortable and welcoming environment for engaged couples to learn about their products and services.
We are excited to announce the winners of this show's Best Booth Design Awards.
Skylar brook farm
If you haven't been to their venue before, no worries. They brought the venue to you. Skylar Brook Farm's booth at the show effectively showcased the rustic and inviting aesthetic of their space, which features high ceilings, exposed beams, greenery, and a mini chandelier. Their booth likely enticed attendees to book the venue for their big day!
retro party co
Retro is in! Retro Party Co. 'rolled' into the show with a combo of vintage-inspired memories for the attendees. Guests took home souvenir photos from the retro photo booth camper, learned about their other photography and photo booth services, and had the option to create their own take-home bouquet at the Flower Bar. Retro Party Co. exemplified that what's old is truly new (and fun!) again.
the bouquet shop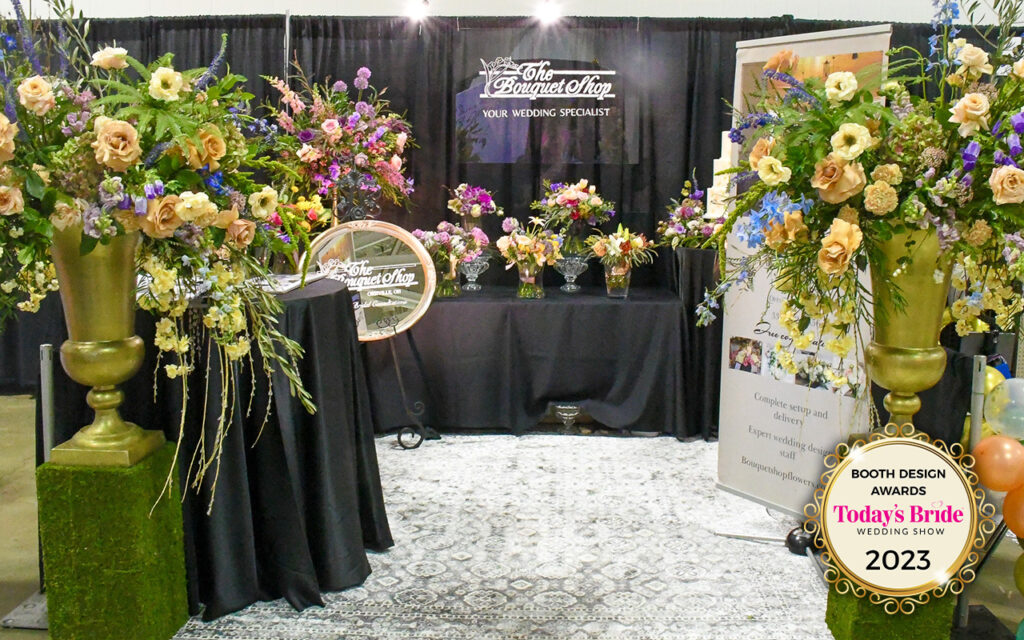 Attendees walked into a virtual greenhouse of colors, aromas, and wedding floral inspiration within The Bouquet Shop's exhibit. Ideas blossomed soaking in all of the design detail among the arrangements and rental items while standing comfortably on the beautiful rug. Their booth space exemplified The Bouquet Shop's creativity that is personalized to reflect couples' wedding vision, with extreme attention to detail.
tkc films
First-time exhibitor, TKC Films, knocked an awesome booth design out of the ballpark. The attention-grabbing background defined the space and grounded the overall booth design to get attendees to stop. They made use of a popular U-shape set-up to help maximize table space for standing crowds to browse their many package services. Their name (and category) branding is high, prominent, repetitive, and memorable. They made their show specials easily visible to peak the attendees' interest. For a company that films weddings to relive the memories, they created a memorable experience for attendees to want to learn more.
The Barn at Walnut Drive
Modern edge meets rustic charm at The Barn at Walnut Drive's barn-esque booth. They made the best use of a high-traffic corner to draw attendees into their 'brick' backdrop wood frame structure while keeping an airy vibe to not block the line of sight to them or their booth neighbors. Couples got a feel for the barn's esthetic, offerings, and viewed available dates on a calendar to help save a couple's time researching their unique venue. The experience lived on past the show as couples walked away with a reusable bag taking The Barn at Walnut Drive's brand to the streets.
Elisavet Photography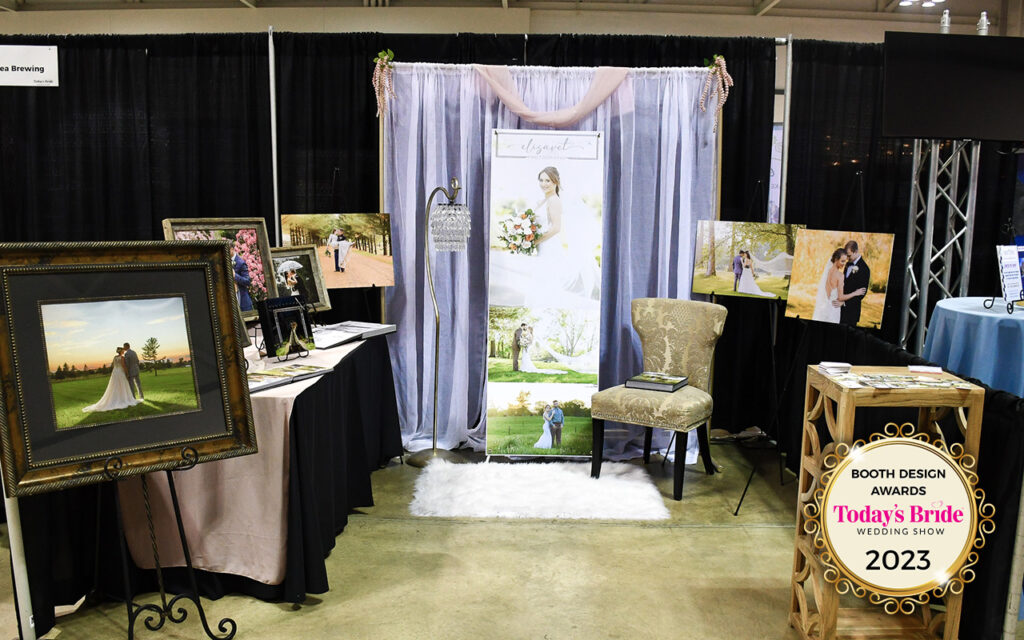 Romantic and natural wedding photography is what Elisavet Photography focuses on behind the camera. That passion was reflected in her booth design with the soft blend of textures and materials throughout. Some attendees wanted to take a seat and relax in her 'living' room of pastel linens, a wood end table, a vintage chair, and a fur rug that all provided a romantic setting. She let the photos speak for themselves by displaying them at varied levels and heights to create interest. Naturally, she made an impression at the show.
---
Thanks to everyone who exhibited in our Akron bridal show this past March, and congratulations to the booth design winners. Bravo!