Partner Program
Howdy, Partner!
Be a part of the distinguished "Today's Bride Featured Partner" program – custom designed and implemented to set your company apart from the competition.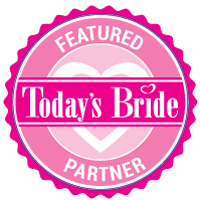 Unlike other awards or status honors, the "Today's Bride Featured Partner" program is a proactive & ongoing initiative encouraging magazine readers, online visitors, and bridal show attendees to look for and choose Featured Partner companies affiliated with Today's Bride – now and for years to come.
Once a partner, you'll receive these tools to help you proudly display your noteworthy status as a reliable & trustworthy wedding vendor within the region…
1) a personalized counter/wall plaque
2) removable window decal
3) access to high resolution logos to promote in your sales literature and/or printed advertisements
4) access to digital partner logos to display on your website, within emails, and in your email signature
Whether you work out of an office or your home, it's important you prominently showcase your status right away, since brides will be looking for this emblem of excellence.
How do I become a Partner?
It's simple. Your affiliation with Today's Bride in the form of either a print ad campaign, a one-year online listing, or participation within three bridal planning events shows your commitment and dedication to the Northeast Ohio wedding industry and cements your status as a Featured Partner.
We're your partner in achieving sales growth. As such, Today's Bride Magazine & Shows is dedicated to promoting our preferred customers to the thousands of brides-to-be we interact with throughout the year.
We look forward to welcoming you to the Partner Family so our engaged couples will see your status starting immediately!  Please contact for details on how to get started.
Kindest regards,
Jim Frericks Today's Bride Magazine & Shows 330-670-9545 x16 [email protected]