January 2023 I-X Center Booth Design Awards
If we could give a Booth Design Award to every exhibitor at the January 2023 I-X Center Today's Bride Wedding Show, we would! The following booths of both seasoned veterans and new exhibitors were creative, on-trend, and impressive! Well done to the winners and all the exhibitors at the show!
White Birch Barn
If you haven't been to their venue before, their booth made you want to experience the high ceilings and the exposed beams that the barn has to offer! From the photos, the greenery, down (or up) to the mini chandelier, White Birch Barn's booth space at the show did a great job providing attendees with the rustic and inviting aesthetic that they can expect when booking their venue for their big day!
So Bloom
So Bloom always impresses us (and attendees) with their floral design elements! Their team did an excellent job showcasing their multitude of offerings – floral, design, and pressed flowers –  while staying true to their theme, Love is Blooming. Their team has an eye for design, and their booth at the show along with their portfolio speaks for itself.
Lightwave Entertainment
If you are hoping your entertainment sets the scene on your big day, Lightwave Entertainment brought that scene to their booth space with their lighting, visuals, and effect talents in addition to their entertainment services. They did a great job immersing engaged couples in a mock wedding setup. Not only did they set the vibe, they also helped couples envision themselves at their own wedding with the help of their full-service wedding entertainment and design!
Brittany Joy Photo & Film
If we had a Newcomer Award for a first-time exhibitor with an incredible booth design, Brittany Joy Photo & Film would win that award. They took the term "Less is More" and created a clean and modern booth design, just like their brand. With plenty of space to meet with their team and admire their work, they offered attendees a simplistic feel with their design, showing couples that hiring a photographer for their wedding should be simple.
Tall Oaks Event Complex
Tall Oaks Event Complex brought the great outdoors into their booth at the show! They went tall (pun intended) with their design, and were sure to showcase the indoor and outdoor chic-rustic beauty that their property has to offer couples for their wedding day!
Selective Sound Entertainment
Selective Sound Entertainment kicked the party (or the show) off with their chic booth set up. Whether you're looking for a DJ, Photo Booth, Lighting, or Photography, they do it all and showcased their talents well with the massive backdrop portfolio! And can we talk about those chandeliers?! How beautiful!
Express Glam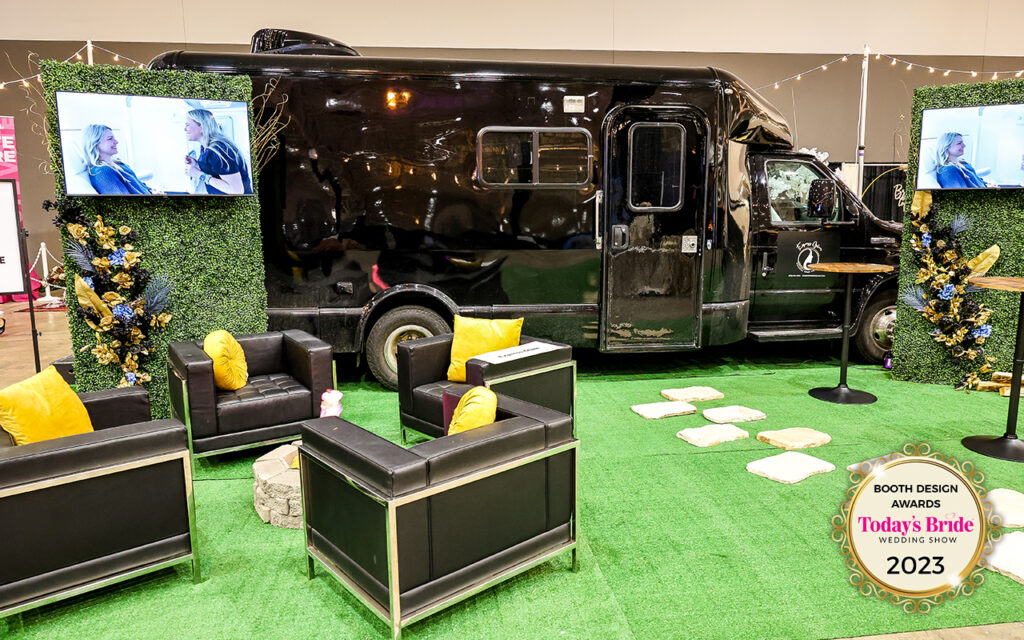 Express Glam is all about the comfort of bringing botox and other treatments to your doorstep. With their new bus on display, their booth design made you feel like you were at a cool backyard party, with their team available and ready to help! Convenient and comfortable is what they were going for while providing expert advice from their experienced clinicians.
Cotton wood Event Decor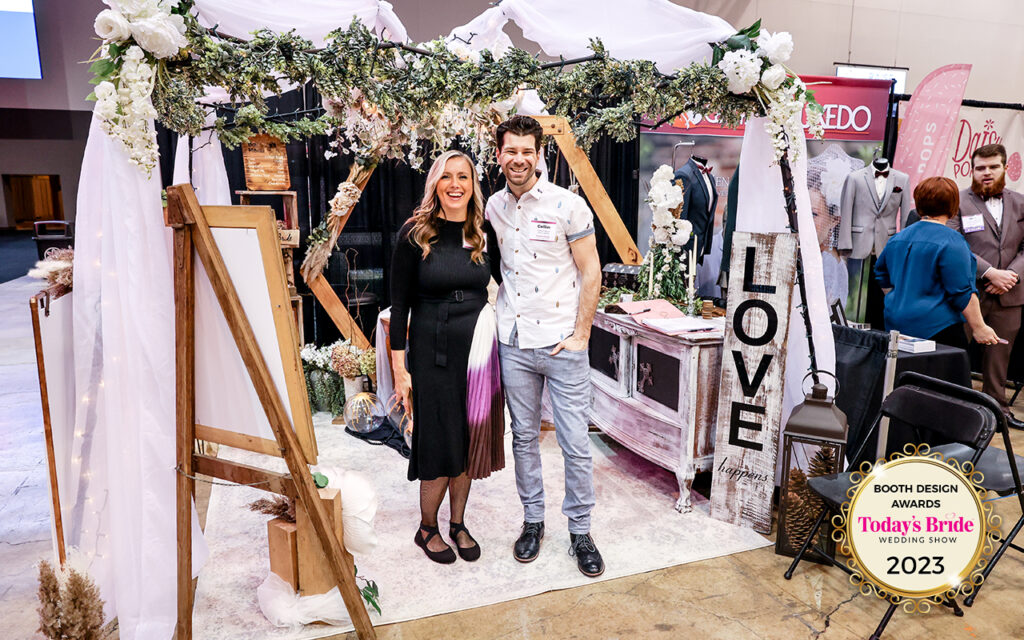 This talented duo knocked it out of the park with their booth display! As newcomers and first-time exhibitors, they brought a variety of elements to their booth to showcase their talent and unique decor inventory.  Not to mention, they also rocked it in the table gallery for the first time too!
reINSPIRED Weddings & Events
If you wrapped a Wedding Planner and a Rental Company into one, you would get Reinspired Weddings and Events. Their booth design was welcoming, and showed engaged couples the benefit of working with them – having their planning and design team all under one roof!  The twinkle light backdrop, the greenery, the advice from a planner – what more can we say besides impressive!
The Road Pop & Tap That Mobile Bar
The mobile trend took over the show and these two mobile bars were decor showstoppers. The best part, these companies are also friends!  Their modern boho aesthetic resonated with lots of couples and brought attention (and bookings) to both Bars.
the road pop
Tap That Mobile Bar
Sound Precision Entertainment | Cuff Link Media
Jack Johnson said it best "We're better together" and we agree – these two companies are indeed better together. Their booth display evolves every year and this year exemplified a great cohesive design to represent the video/photo and entertainment sides of the business. Sound Precision Entertainment and CuffLink Media made sure to set a great first impression for attendees that was  impressive and memorable.