January 2022 Best Booth Design Winners
And just like that… the January 2022 Wedding Show season is over. Even though the shows are now behind us and we look towards the future, we can't let those exhibitors go unnoticed who went above and beyond to give visiting attendees dynamic displays to look at! We wish we could award all booths because no one's hard work goes unnoticed – but here are the Top Booth Designs from the 2022 John S. Knight Center and I-X Center Shows.
ACME FRESH MARKET | John S. Knight Center
Acme Fresh Market wowed attendees with this clean, cohesive, inviting display. This quad booth space provided plenty of room to highlight their many services – cakes, catering, and floral – all in one area!
Lavender Bridal salon | John S. Knight Center
Gowns galore filled this triple booth space for Lavender Bridal Salon. Carpeting, layered textures of fabric, pillars, greenery, and prominent logo signage captivated brides, drawing them into this fashionable gown gallery.
The Bouquet Shop | John S. Knight Center
There's no denying exactly what this exhibitor offers when you see (and smell!) the fresh scents of The Bouquet Shop's booth. The fresh florals, varying table styles and heights, neutral contemporary carpet, and excellent signage created a welcoming zen oasis space amidst the energy of the show.
Walnut Ridge Wedding Rentals | John S. Knight Center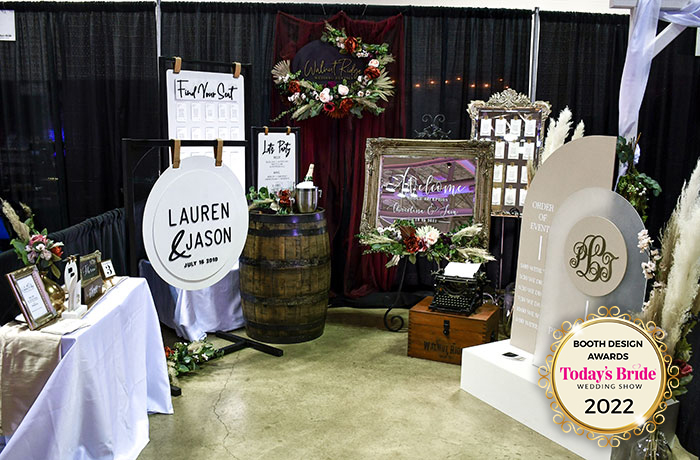 Whether you're planning a modern, rustic, or vintage-themed wedding, attendees were attracted to explore the many options in the Walnut Ridge Wedding Rentals booth. The variety of décor and signage options available are just a few of the things Walnut Ridge has to offer couples.
First Choice Photography | John S. Knight Center & I-X Center
Polished and professional, First Choice Photography nailed it with branding, while giving attendees the full experience of trying out their photo booth options. You would never know this was their first time exhibiting at a Today's Bride Show.
Five Five Media Co | John S. Knight Center & I-X Center
Five Five Media Co. is an example of an exhibitor setting their booth design bar higher and higher with each show. Attendees stepped into their living room style studio to learn more while getting keepsake photos taken of their fiancé, friends, and family.  Bonus, they are learning how to set up and tear down in record time as they exhibit more often!
Sound Precision Entertainment & Cuff Link Media | John S. Knight Center & I-X Center
Brides were On Cloud WINE as they entered this themed, dual booth space from partner companies Sound Precision Entertainment and Cuff Link Media. Standing out (and UP!) with this booth design, they gave attendees a unique in-booth experience to be remembered.
The Reserve at Stone Creek | John S. Knight Center & I-X Center
When you want to be noteworthy, you bring the ambiance of your venue to the show. First-time exhibitor, The Reserve at Stone Creek recreated their building façade and incorporated decor details and large-scale photos/video to simulate the timeless elegance of their venue.
Willow Haven Event Center | John S. Knight Center & I-X Center
Willow Haven Event Center used every available inch in their 20-foot booth space. As a venue, it can be hard to showcase what couples can expect from your space unless they visit it. Willow Haven brought their venue to the show venue. Custom backdrop, wine barrels, ceremonial round arc, wood raised flooring, and complementary signage. Venue tour complete already!
Gaganharnav photography | I-X Center
Not only did GaganHarnav Photography get their sign made just for the show, but they also upgraded to a double booth during move-in day! As a first-time exhibitor with Today's Bride, they created a booth space that was spacious enough to invite attendees in, leaving a lasting impression on couples to picture them working together.
Galleria gowns | I-X Center
Gowns are an attraction all their own, yet Galleria Gowns stood out even more by adding an unexpected, contrasting ice blue metallic backdrop and a large, plush rug. This proves simple design features can create a large, memorable impact without a lot of clutter.
Gideon Owen Wine Company | I-X Center
No pour decisions were made with this booth design! Gideon Owen Wine Company brought their winery venue atmosphere to the show.  A branded full image backdrop banner is a statement piece to get attention, along with more branding on the linens, plenty of venue photos, and small decor touches that complimented this corner booth.
Lime lights Entertainment | I-X Center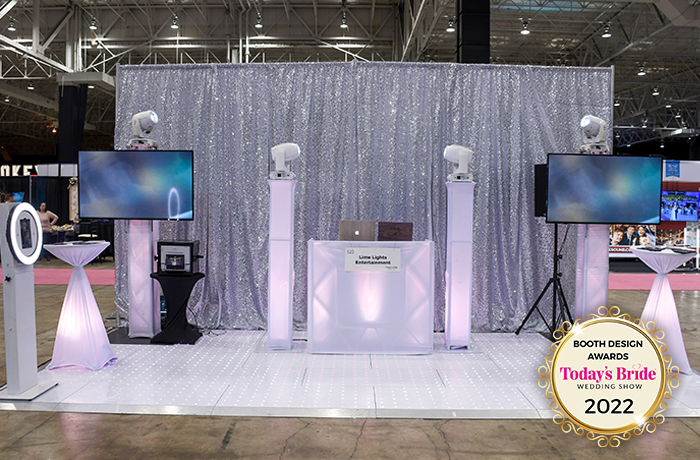 Standing out in a sea of black booth drapes is exactly how Lime Lights Entertainment stood out from other exhibitors. Paired with the sharp look of the DJ booth and columns, their signature white dance floor showed off the lighting talents they can bring to wedding receptions.
The Colab | I-X Center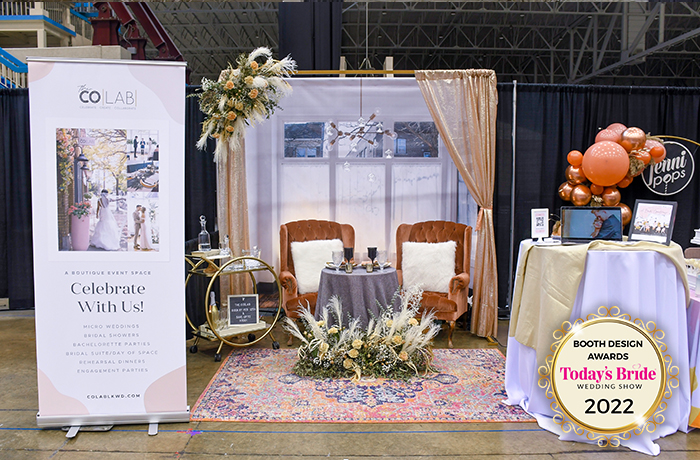 This newbie exhibitor, The CoLab, dazzled attendees by bringing their co-working space decor to the show and recreating a corner of their venue. The CoLab provided an inviting, cohesive space,  mirroring what you can expect when planning your special day with them. PS, check out that cool chandelier!
VLX Travel | I-X Center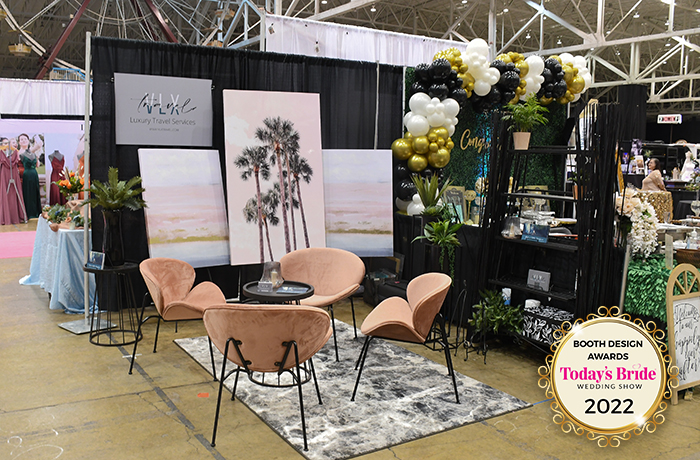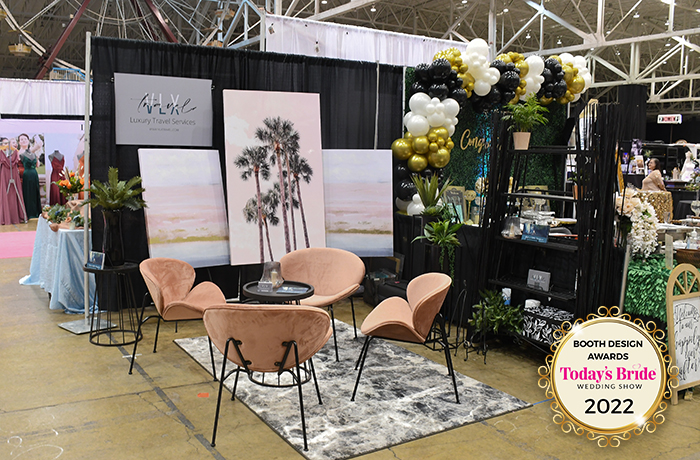 Have a seat in this booth space and you won't want to leave! That's the vibe first-time exhibitor, VLX Travel, was going for. A consultation space to get to know each couple, and help plan their dream honeymoon.
---
Thanks to everyone who exhibited in our the January 2022 shows!  We commend everyone involved in the shows for their effort and time put into designing creative exhibit spaces.