Booth Design Awards
This past Sunday's Bridal Show in Akron at the John S. Knight Center was a show-stopper! We were overwhelmed by the effort and details that were put into each display, and we can easily say that choosing the best designs was not an easy task! Kudos to everyone who exhibited and made this show such an astounding success.
The Bouquet Shop
When you walked past The Bouquet Shop's booth, your senses tipped you with exactly who they were and what services they offered. Their signage was professional, prominent, and descriptive. They used varying heights to showcase different styles of floral arrangements and draw interest. Their dramatic use of color was a consistent theme throughout the booth and made for an eye-catching display.
Columbia Woodlands
It can be hard to incorporate so many decor items into such a small space without the booth looking busy or tacky, but Columbia Woodlands proved that there is an elegant way to do it! You can completely understand the vibe of their reception space just by looking at this 10'x10′ space. Thanks to the rustic charm vibe, framed photos, slideshow, and prominent signage, brides could easily imagine hosting their wedding at Columbia Woodlands.
Doreen Leaf Designs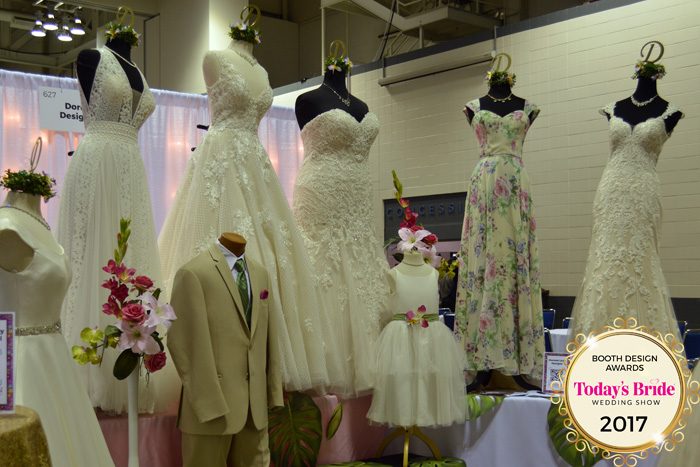 Doreen Leaf Designs made the best use of a corner and vertical space. Thinking UP, they showcased the variety of fashions they offer for the entire bridal party. This is proof that the little touches like flowers, leaves (get it? Doreen LEAF?), and colored linens can really make a big statement as they embody the theme and vibe of ther salon and brand.
OH Snap! Photography
OH Snap! Photography re-configured last year's best booth design in the hopes to create an even more spacious, inviting booth. Goal accomplished! The warm colors of gold and burgundy paired with the muted lighting and ornate rug draws attention without feeling pressured or overwhelming – that's the OH Snap! way.
Springlake Party Center
SpringLake Party Center knows their audience and appealed to what brides want. Offering coffee, tea, water, and lemonade, brides felt welcomed and could imagine their guests being greeted with the same charm.  It says to the brides "Oh, you'd like a coffee bar at your reception?  We can do that!" Their unique property includes an option for outdoor gazebo ceremonies and photos.  Without even talking to them, you know that thanks to their booth design.  Bravo!
first-time stand-outs
Cookies by Sarah M
How do you display a product that is rather small?  Go big and bold!  This booth wins best use of creative color to get attention.  Brides were drawn to the playfulness, and it didn't hurt that there were free cookie samples.  Impressive for a Today's Bride first-timer!
Brittany Humes Photography
Another first-time booth design was Brittany Humes Design – but you wouldn't know it by looking at the booth! It does everything right. A show special is displayed prominently, and a portfolio of her work is easily accessible on a high cocktail table,  alongside a "Request More Info" sheet where she could collect promising leads. The custom backdrop is the perfect frame for her talents above a cozy niche to sit and talk to Brittany.  It all came together to create a display worthy of veteran-status.
Mr. and Mrs. Studios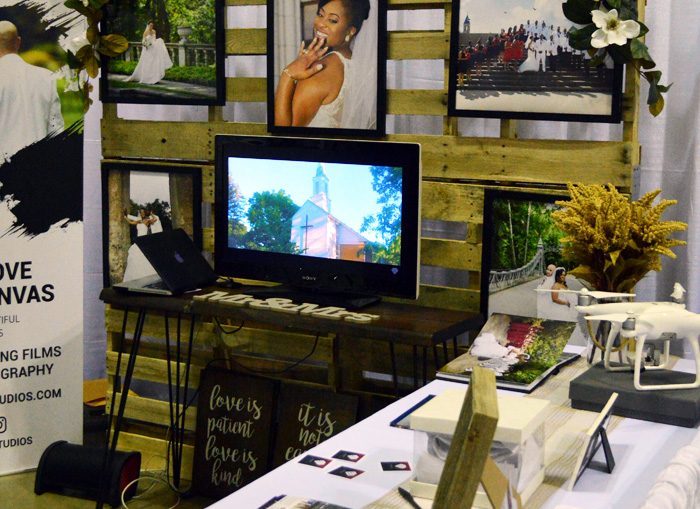 You're a first-time exhibitor?  You fooled us!  Conspicuous signage, a show raffle, custom on-trend backdrop, video looping, high tech drone, and natural elements peppered in made for an impressive booth space! Just the right amount of decor accents highlighted – but didn't take away from – their services offered.  Well done!
---
There were so many impressive booth designs. One thing we loved about the booths at this show – there were so many personal elements added to the design to really let brides know exactly who they were talking to!