5 Social Media Tips for Exhibitors
Need some help getting brides' attention before the show? Today's Bride's Social Media Stylist has some tips to help boost your social media presence to target those millennials at the upcoming Wedding Shows.  Just follow these 5 easy tips to set you up for success in booking more brides!
2. Share Today's Bride Posts and Event Page Saying You Will Be There
Share posts about the upcoming show and say something like:
"Come visit us at the Today's Bride Show on October 25th! We're going to have some awesome show specials for your wedding that you won't want to miss!"
-or-
"Contact me for Free Tickets to the October 25th Today's Bride Show!"
Make it known to your audience that you're going to be there.
Share the Show Event Pages on Facebook – October 25th Embassy Suites Cleveland – Rockside.  This is different than just the Today's Bride Facebook page. If you go down the left-hand side of our Facebook page, you will see that we created an event page for each of the shows.
3. Create Content
Some tips for engaging posts are:
a) Text should be short and sweet, with a friendly voice
b) Always include a good image. We have created show web ads that you can use that are already pre-sized for each social media platform. If you want to add your logo or want another size, please ask! We're here to help.
c) Link back to your website, or to the event page.
F
Just follow the below steps:
1. Save a copy of the button you would like to use (right click & save the image to your computer)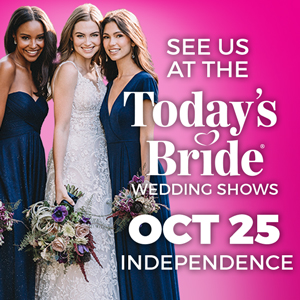 2. Have your web developer upload the web button to your website
3. Once the button is uploaded have your web developer link the button to https://todaysbride.com/bridal-shows/2020-october-25th-wedding-show-embassy-suites/
POST ON SOCIAL MEDIA
Download this image to share on your social media. (right-click & save the image to your computer)
Examples for Post:  Come see us at the @TodaysBride wedding show on October 25 at the Embassy Suites by Hilton Cleveland – Rockside in Independence! We'll be offering [insert discount] for brides who stop by our booth!
Or share this event on Facebook:   Facebook Event Page
PINTEREST
Feel free to repin our photos or pin your own from the show; tag @todaysbride in the description
---
Need help with your Social Media? We can help!
---
4. Tagging @todaysbride and Hashtagging #todaysbride
Tagging means that I will get a notification that you tagged us in a post, so I can share it from you, therefore increasing the number of eyes that will see it. Another benefit of tagging is that your viewer can then click on our name in that post, taking them to our page, where they can follow a link to buy tickets to the show there.
How do you tag someone in a post? Create a new post and type the "@" symbol, then begin typing Today's Bride and our account should automatically pop up where you can select it.
Hashtagging means inserting a "#" before a word or phrase so it can be categorized with other posts about the same topic. For example, for every Instagram image I post, I always add #todaysbride after the caption. With that, users can search that hashtag and see every post related to Today's Bride that has been posted on that network. It's kind of like the Google Search of social media.
It has been found that by just adding one hashtag to an Instagram post, the number of eyes to see that post and to then like it increase by 12%.
5. Be Present
There is about a 99.9% chance (okay maybe exaggerated a teeny bit) that every millennial couple will check out a vendor's website and social media before making a decision about booking them or not. By having a constant presence and at least posting weekly, you're telling them that you are:
a) Still in business (harsh, I know. But true!) b) Are engaged enough in your business that you're trustworthy to be that engaged in their wedding, too. c) They can see examples of your work and personality to determine whether you're the right fit for them or not.
---
We hope these tips will help you get the word out before the show so that your booth will be swarming with engaged couples! Let us know if you need access to any images or links.