2021 Booth Design Awards – March Summit County Fairgrounds Show
What an incredible weekend at the Summit County Fairgrounds during our annual Akron bridal show. Navigating the production of a bridal show during COVID-19 has been nothing short of easy. We've had to learn new venues, new floor plans, new safety protocols, new attendee check-in registration and much more.
While a lot felt different and new this past year, one thing felt the same. And that is our vendors and the amazing displays they create at the show. We love recognizing those that went above and beyond to give our attendees dynamic displays to look at and gather inspiration from. While we wish we could award everyone, here are the top booth designs that stood out at the 2021 March 6th & 7th Summit County Fairgrounds Wedding Show.
---
Five Five Media Co | newcomer award
Five stars for Five Five Media Co! As a first timer at a Today's Bride Wedding Show, Five Five Media Co. knocked it out of the park with their booth display. Including a shiplap wall for a picture perfect backdrop, canvases of their best work and a chance to get a mock engagement photo from their charismatic staff, attendees were immediately drawn into their space wanting to learn more about their packages and available dates.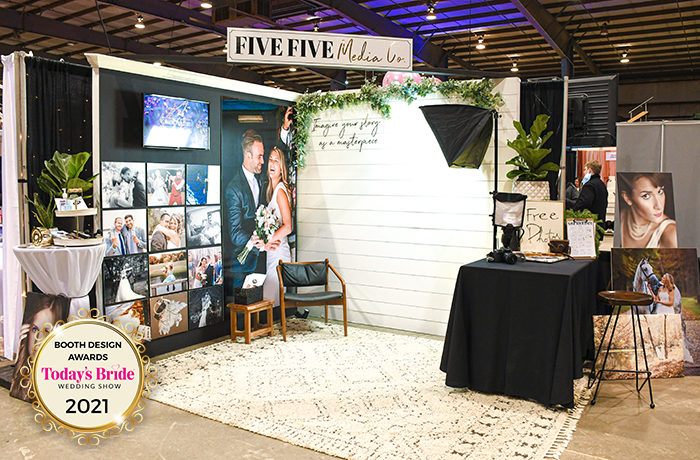 ---
Willow Haven Event Center
Willow Haven Event Center's booth design reflects exactly how your wedding would feel at this special venue. With a ceremony space set up, brides & grooms-to-be got an idea of what it would be like to say "I Do" in this rustic setting. Not to mention, the real life couple they had at their display throughout the day made it feel even more realistic!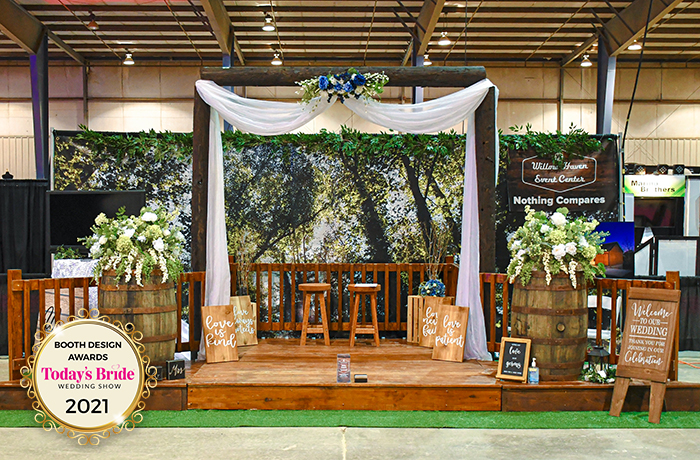 ---
The Bouquet Shop
The Bouquet Shop's booth (and the aroma) was getting us in the spring mood at the March Wedding Show!  With 15 bouquets  and sample centerpieces on display, attendees got a great sense of The Bouquet Shop's style in regards to flowers, colors, and designs.  Many items such as the contemporary vases, columns, and tables are available for rent as well.  Their design team has the creative vision to accomplish your wedding decor wishes.   Did you notice the back table is held up by two, oversized upside down urns?  And, their beautiful reception table design in the Inspiration Gallery that showcased fifty shades of pink.
---
Robert J Catering & Canton Chair Rental | Collab
Draped linens tied these two booths together in a beautiful collaboration between Canton Chair Rental and Robert J. Catering. Working together on dozens of weddings together throughout the year, it was only fitting their booth space was together, too! Canton Chair Rental decorated both booths with two of their most popular linen colors  and unique backdrop draping techniques in each booth.  Robert J. Catering displayed their most requested late night snack options, a S'mores Bar and samples of their Popcorn Bar.  Yum!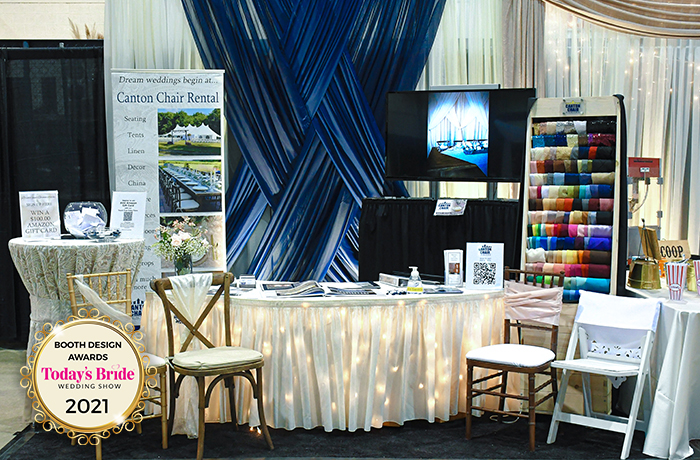 ---
SElf made Couture | newcomer award
Another first timer at a Today's Bride Wedding Show, Self Made Couture, won attendees over with their custom suit and tuxedo options. Their pre-planning signage and messaging had couples stand in their tracks to soak it all in and to scan one of the many QR codes with the hopes to win a FREE custom suit to one lucky couple who attended. Their unique formalwear is 100% custom designed for men and women, with fitting parties at their studio for the bridal party that needs measured.   Whether you're going for a classic, trendy or the latest Bridgerton vibe,  this is custom done right.   Need Big or Tall sizes?  Easy!  Want to honor your engagement?   Say I DO with your engagement photos close to your heart inside your suit.
---
Glenmoor Country Club
This booth design from Glenmoor Country Club conveyed exactly what a couple would expect from their grand venue and lush property in a mere 10×10 foot booth space. The trendy boxwood wall  brought the outside in paired with bright, patterned linens creating a memorable experience for the couples to learn about the wedding weekend amenities available to them as if they were a VIP Member, while getting the chance to win a luxury Honeymoon Getaway!
---
Sound Precision and Cuff Link Media
The whimsical, playful design of Sound Precision Entertainment and Cufflink Media's booth illustrates the many services these two companies off – distinctively, yet cohesively .  Represented as partners while offering solo services or value packages conveyed the union with lots of personality.   Their theme (and neon sign photo op) as "BETTER TOGETHER" proved itself in more ways than one.
---
Kudos to all these companies that received a Booth Design Award from the March Summit County Fairgrounds Wedding show! The hard work, collaboration, effort and details does not go unnoticed in their bridal show booth design that creates lasting impressions to attendees.
WANT TO SHOW OFF YOUR BOOTH DESIGN SKILLS AT THE NEXT BRIDAL SHOW?