Booth Design Awards — April 2021 Huntington Convention Center Show
Our first show at the Huntington Convention Center in Downtown Cleveland this past weekend left one thought echoing in our minds over the past few days: we are SO happy to be back! We were the first trade show back in a convention center since the start of the pandemic. Despite the craziness that came with putting together such a spectacular Wedding Show in under one month, this show was an overwhelming success!
Of course, that success came largely from you: our phenomenal vendors! We commend everybody who participated for adjusting to the new one-way aisles, socially distanced booths, and mask precautions put in place to ensure the health and safety of all in attendance — it's what made this great show possible in the first place. But while cooperation with COVID-19 guidelines made this show possible, the beautiful and dynamic designs of all of our vendor booths made this show wonderful. Everyone brought something unique to the table at the 2021 April 10th & 11th Huntington Convention Center of Cleveland Wedding Show. Here are the booths that we believe went above and beyond the mark to captivate, entertain, and inspire our attendees.
---
THE BARN AT TALL OAKS | Showstopper Award
We believe that some of the most successful booth designs are the ones that create an environment that transports you into their space. It's a difficult thing to pull off, but The Barn at Tall Oaks executed it masterfully. Their wooden beams, greenery, and sting lights encapsulated the rustic and romantic feeling of the barn itself.
---
DAVID'S BRIDAL | veteran award
Our next award-winning booth design comes from a show vendor that has been with Today's Bride for over 20 years: the one-and-only David's Bridal! David's Bridal showed us that just because you are a veteran vendor doesn't mean that you can't WOW us with something that we have never seen before. They stepped up their game with two awesome booths: the first showcasing mainly bridal and the second bridesmaids, plus other fun extras they offer at the store like robes, flower girl dresses, and bride-to-be swag.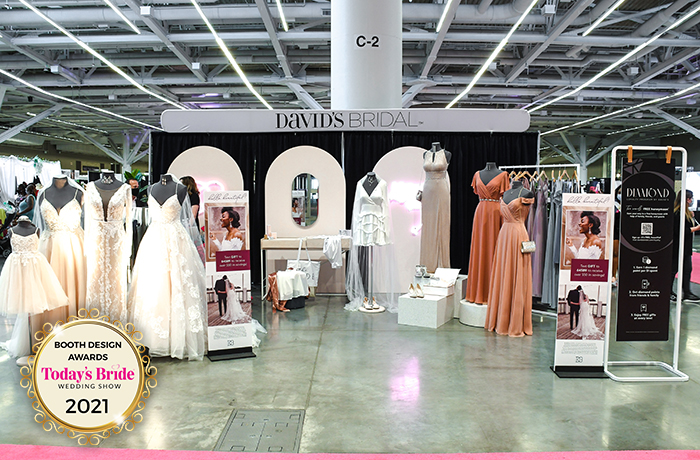 ---
LIGHTWAVE ENTERTAINMENT
What better booth design strategy is there than showing off EXACTLY what you can do for a customer. With the excitement of tasting cakes, arranging flowers, and trying on gowns, the factor of lighting is often forgotten by brides and grooms. So Lightwave Entertainment created a booth that would be impossible to forget. They perfectly showcased how movement with lights can create interest and uplighting can add a different dimension to your linens. We couldn't look away!
---
k. cutright wedding coordination + design
This next booth design also transported you into their space, but rather than taking you into a wedding venue, K. Cutright Wedding Coordination + Design invited you to step inside her office. Once inside, you got a sense of her strong sense of design, with trendy garlands, a neutral color palette, and mid-century modern touches. But, more importantly, the intimate setting of this booth design let you know that you were in the presence of a wedding professional you could trust.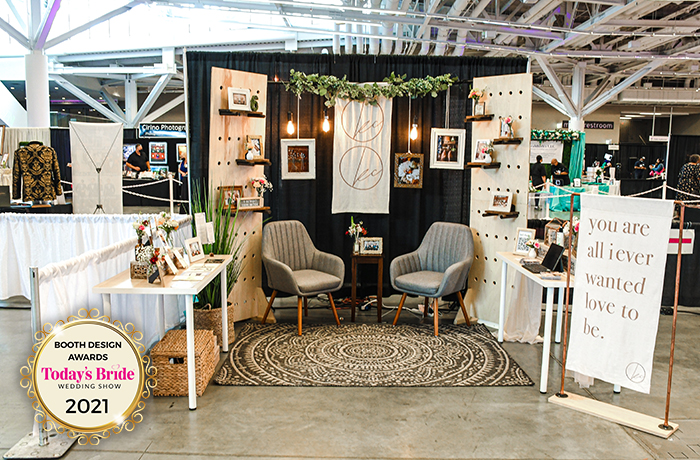 ---
TRULY INSPIRED PAPER CO.
How do you attract an audience to your booth when the size of your product is quite small? Truly Inspired Paper Co. showed us that the answer is quite simple: you build something BIG. Their booth design featured a wooden archway with beautifully strung garlands and string lights, bright floral backdrops, and a sign you couldn't miss. It attracted eyes from up and down the aisle!
---
BURNING RIVER ENTERTAINMENT
What do you do when you've used your 10 x 20 booth space and can't expand to the sides any further? You go UP, according to Burning River Entertainment. And we must say we agree! With their sky-high trusses, softy canopy, and custom-themed light show synced to the video, this booth design had a welcoming vibe that kept attendees 'engaged.'  Way to reach for the stars!
---
L'NIQUE SPECIALTY LINEN RENTAL
L'Nique brought their showroom to the show — complete with these eye-catching closets that displayed their linens in an organized, clean manner. They also elegantly showcased their other products by styling various high-tops with chair covers, chargers, and linens, and their use of tiers and levels created visual interest that attracted couples to their booth all weekend long.
---
the grape peony | Newcomer Award
Ever wondered what your favorite Etsy shop would look like as a boutique? The Grape Peony's booth design created a physical space where their virtual boutique came to life, creating the unique opportunity to get up-close and personal with their unique and personalized gifts which are traditionally only available online. Their soft color palette, beautiful floral touches, and designs that speak for themselves made this booth a must-stop on every bride's list!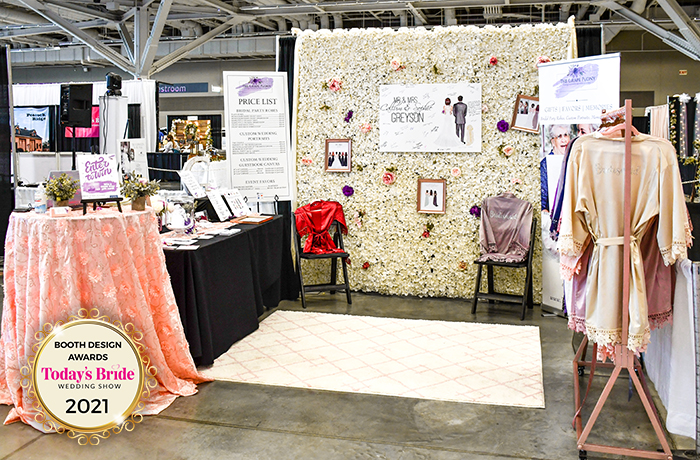 ---
five five media co.
This back-to-back champion, Five Five Media Co, WOWed couples at the Akron show in March with their single-booth space, but this time they upped their booth game to a double, complete with a black arch illuminated with strung bistro lights. Back and better than before! Their booth featured a mock-engagement photo session, where brides and grooms had the chance to get a feel for whether Five Five Medio Co. would be a good match for them before booking.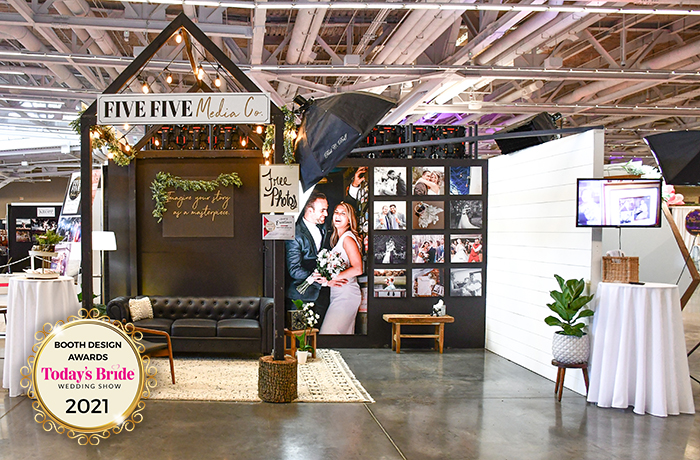 ---
lET'S ENTERTAIN | Newcomer award
With six uniquely themed spaces in their walk-through double booth, Let's Entertain showed couples that no matter what their wedding style is, they could execute their vision and execute it beautifully with a vast array of rental options.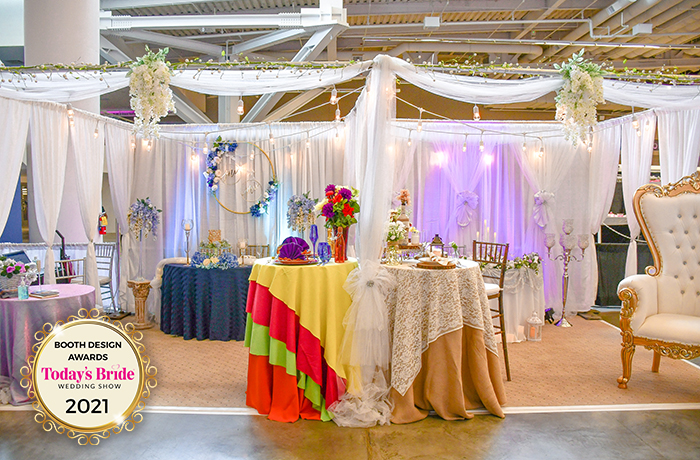 ---
PALM & PEARL EVENTS | NEWCOMER AWARD
New on the show scene, Palm & Pearl Events grabbed attention with their wall of greenery, impressive balloon garland, and flashy neon sign that gave couples nothing but "good vibes." The perfectly designed booth and fun color palette created an inviting space that attendees wanted to walk into and learn more about. And their photo-op setup, vibe-y space, and balloon garland backdrop brought together their three services of photo booths, design, and garlands in a way that felt cohesive and fun.
---
THE BRASS POPPY EVENT RENTALS & Design | NEWCOMER AWARD
If anybody knows how to play to their specific audience, it's The Brass Poppy Event Rentals & Design. This is another great example of how a successful booth design can create the feeling of a complete room in a 10 x 10, open booth space. If vintage velvets, romantic silhouettes, and bohemian touches like mixed-brass candlesticks and macramé wall hangings are your thing, then The Brass Poppy's booth was one that you didn't want to miss — and they made sure you knew it!
---
Kudos to all of the companies that received a Booth Design Award for the April Huntington Convention Center of Cleveland Wedding Show! Your hard work, collaboration, and creativity are reflected in your booth designs that delight and inspire our attendees.
WANT TO SHOW OFF YOUR BOOTH DESIGN SKILLS AT THE NEXT BRIDAL SHOW?