Why Print Advertising Matters
With everyone burying their faces in their phones you may be asking yourself– what is the point of print advertising? Many businesses are concerned with trying to reach their audience through social media. Although social media is important, you shouldn't stop there.
Advertising via social media is usually free. Therefore, the majority of companies are using it as their main form of reaching their target audience. This results in people getting bogged down with so many advertisements and so much information, they don't pay attention to even the things they would be interested in. More commonly, though, your business isn't getting noticed by your target audience. As the saying goes, not advertising is like winking in the dark. You know what you're doing, but nobody else does. That's where print comes in.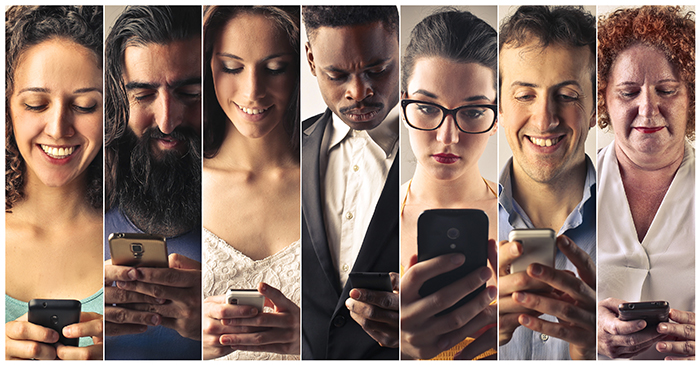 it's permanent
When your information is posted on the internet, even if it is on your personal social media account, it soon becomes buried and hidden by people and other companies' posts. The picture you posted on Instagram is really only helpful for about 24 hours before it gets pushed to the bottom of someone's news feed, lost in pictures of their friends' selfies and quirky coffee shops. Even if you spend money on Google or Facebook ads, you don't have an unlimited budget, so your ad will disappear eventually. However, advertising in print is permanent. There is no expiration date for your ad. Brides will see it whenever they look through the magazine.
magazines are vital to wedding planning
Wedding magazines are one of the main ways couples are finding inspiration. 72% of couples today are using magazines when planning for their nuptials, and they're collecting and referring back to 4-6 issues of their favorite magazines. They are able to mark pages they love, jot new ideas down in the margin, and carry a physical copy of their inspiration with them. Having your hair salon ad in the same magazine where they are looking for fresh hairstyle ideas is extremely effective. They will know you are a local company and have all your information right in front of them, making it easy and convenient to contact you.
---
Need help with marketing? We can help!
---
it's not a shot in the dark
With online advertising and posting on social media, you have no idea who is seeing it. Your wedding photography ad could be showing up on the side of a single 16-year-old's Facebook page, and you'd never know. When it comes to advertising in print, you know exactly who your audience is. If you advertise in a bridal magazine, chances are the person looking through it is planning a wedding and looking to hire services like yours. Print advertising is a much more effective way to reach your target audience.
you'll gain credibility
Anyone can put their business online. If you Google "wedding photographers in Northeast Ohio," you will get 162,000+ results. If you look in a bridal magazine for Northeast Ohio photographers, you'll find 10-15. Couples consider this when they are shopping for wedding vendors. They know a print magazine is much more reliable than randomly Googling businesses. Having an ad in a well-known magazine will help you establish more credibility and book you more weddings.
Your exposure will increase
The Rule of 7 is Marketing 101 – the more places engaged couples see your company's name, the better. With print, there's a "pass-along rate" which means that once a bride is married, she's more likely to pass the magazine on to an engaged friend than throw it away. While you may or may not have booked Bride A, you get another chance with Bride B after she passes the publication along…all from one single ad. The more brides that see your name in a magazine the more they'll search online for your website. Increasing your search exposure will boost your site in Google, causing it to come up first in a random search. This alone should give you the push you need to advertise in print!
---
While online advertising and staying current on your social media outlets is important, you should remember not to neglect your print advertising. There are still many benefits to it, especially in the wedding business world. Check out the digital copy of our latest publication to see it's advantages for yourself!
Still not convinced print advertising is worth it? Check out our blog post on the impact of print, and you'll change your mind!