2019 Booth Design Awards, I-X Center January Show
When it came to deciding the Booth Award Winners of the I-X Center 2019 Bridal Show, we all agreed that everyone brought their best this year! We had a list nearly a mile long of everyone we thought should win. Narrowing the list to the top winners took an enormous amount of time and discussion. We applaud and commend each and every one of your for putting so much thought, work, and design into your displays this year.
Cleveland Photographic Co.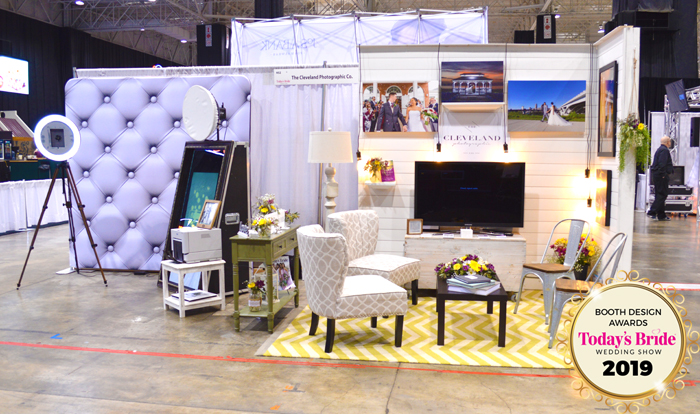 Cleveland Photographic Co. brought all the trends! A bright and playful chevron rug an the ever-popular shiplap wall framed a comfortable and inviting room where attendees could discuss dates and look through albums and slide shows. The other side of their booth showcased their modern side, showing just what they can bring to a wedding and providing couples with on-the-spot souvenirs!
Columbia Woodlands
Columbia Woodlands used every available inch in their 15 foot space. As a venue, it can be hard to showcase what couples can expect from your space unless they visit it. Columbia Woodlands brings their venue to the I-X Center. They created a dynamic display full of texture and color, and even brought in a DJ to help set the mood! From flowers to linens and seating to photos, the only thing missing was a sign telling brides what magical venue they just walked into! But, their polished staff looked professional and consistent, and prominently displayed their company logo on each shirt.
One Red Door Photography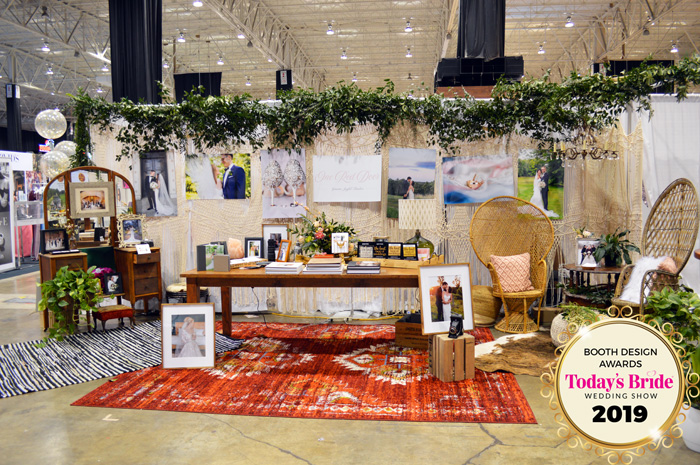 We overheard some brides-to-be that they wanted to live in this booth because the decor was so on-trend! Creating a bohemian-lovers paradise, One Red Door Photography combined eclectic pieces like a tribal rug, wicker high-backed chairs, vintage furniture, and gorgeous greenery. One glance at their booth tells you what kind of business they are, and their signage was right in the center, making it easy to see no matter which direction you came from.
Danielion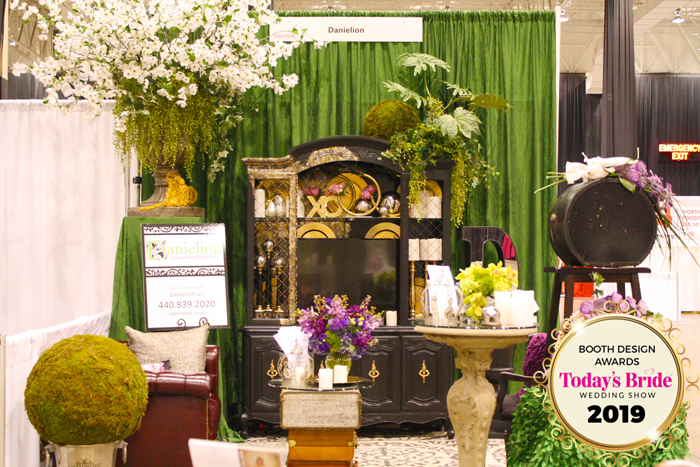 First time exhibitor Danielion created a garden in a 10ft by 10ft space and astounded the attendees! They accented their greenery and floral displays with tables and pedestals similar to the fountains and structures found in gardens. Framed in with a luxurious leather loveseat, vintage luggage, and an antique hutch, this booth brought us back to a simpler time when flowers were used to woo and romance a potential spouse.
Jadie Foto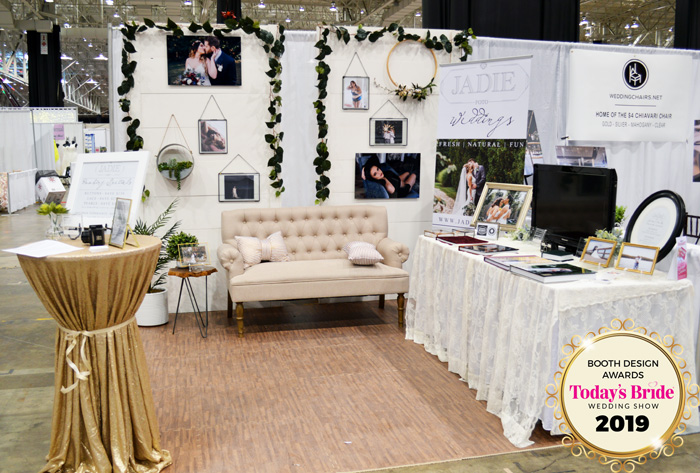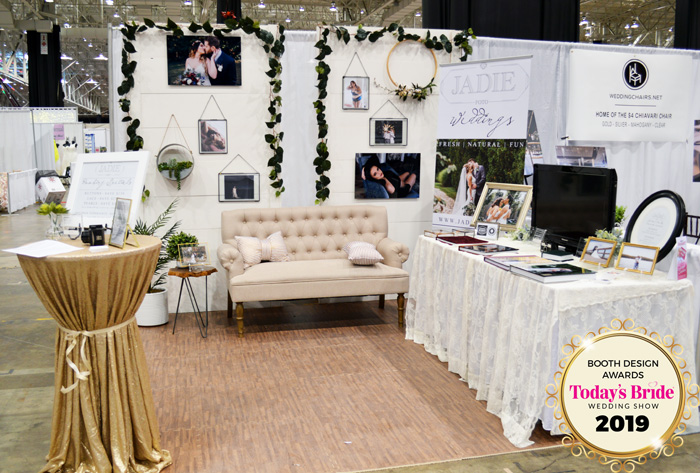 Jessie from Jadie Foto is not one to rest on her haunches! After winning a Best Booth Award in both January and October of 2017, she decided to change things up with a brand new design to wow us once again. And she delivered! With a Joanna Gaines-esque theme of shades of white and cream, she accents what could be a boring and monotonous color scheme with light pinks and golds, textured linen, and a fun rug to bring some color. Her company name is clearly displayed, as are examples of her work, and a show special is showcased up front to draw attendees in to ask questions!
Liliana Bridal House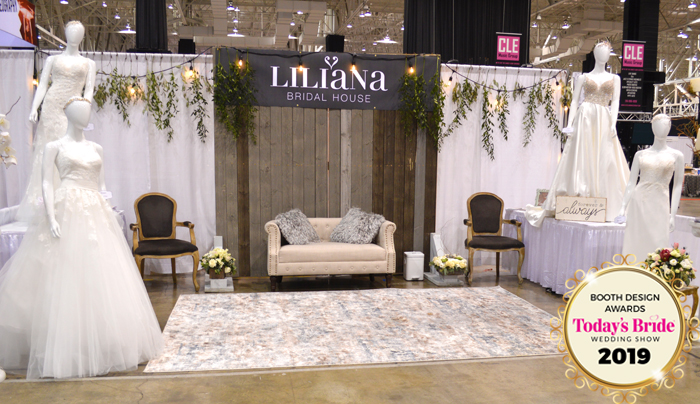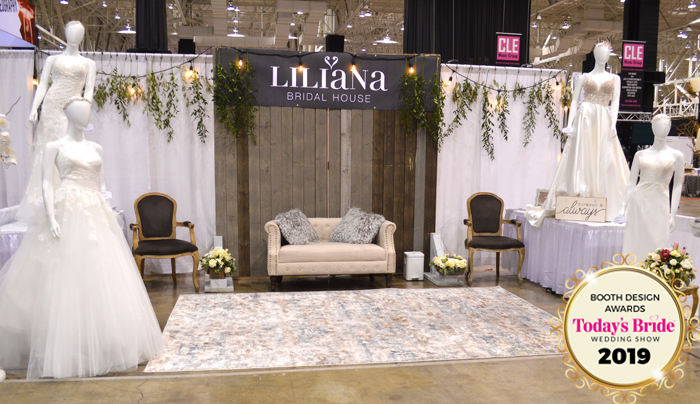 A custom backdrop? Check. Visible signage? Check. Additional lighting? Check. Use of height? Check. An open and welcoming space? Check! First time exhibitor Liliana Bridal House did everything right with their booth. Attendees could simply walk by, fall in love with a dress on display, glance at the sign, and set up an appointment the next day. Or, they could step inside to ask the consultants for advice, get information about the shop, and ask questions they have about shopping! With the cascading greenery, light colors, and gorgeous gowns, this booth gave off a romantic vibe – exactly what every bride wants on her wedding day!
Invitations by StreamlineCLE
Any bride who walked past Invitations by StreamlineCLE's booth instantly knew that they are credible, knowledgeable, experienced, and talented! No matter where you looked, examples of their work were easily visible. From invitations to menu cards, to thank you notes, and more, there were a variety of designs and themes to inspire brides. Plus, they had their discount card sign right up front so brides easily knew that they would save money if they booked this vendor! Adding their Bride Approved status to their booth space and their promotional materials let brides know that they would be working with a tried-and-true professional.
Favors for You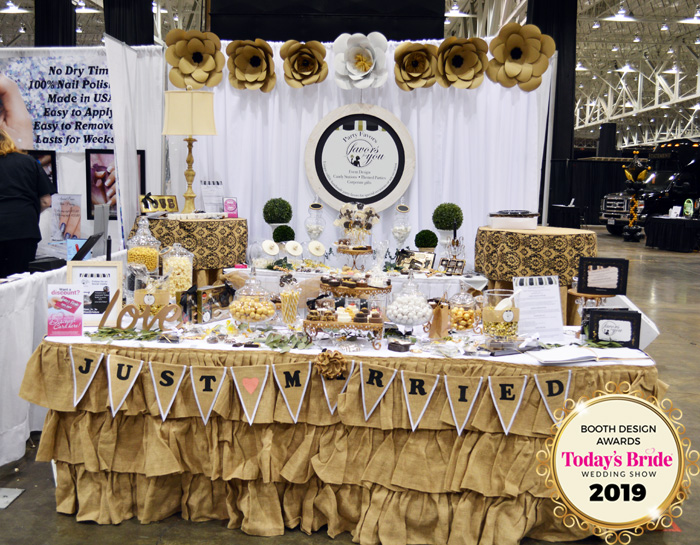 Play on the ever-popular rustic theme, Favors for You incorporated a layered burlap skirt on her table. She utilized cute decor like a calligraphy love sign, Just Married banner, and ornate cake stands. Using paper flowers to draw your eyes up makes her sign more noticeable, and her Discount Card sign is right up front. Brides can easily imagine this adorable dessert table at their own wedding!
Normandy Catering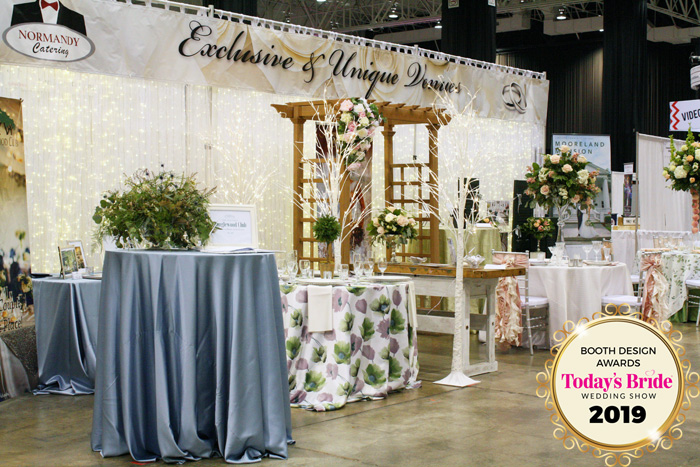 Normandy Catering and their exclusive venues Mooreland Mansion and The Tanglewood Club combine their efforts in this triple booth space. Though the entire space was cohesive, they separated each company with a different color scheme and signage. Their backdrop was beautifully lit with string lights and their custom-made signage spanned the entire booth width! They also featured a reception table in their booth, complete with Chiavari chairs, sashes, and a stunning centerpiece.
BRIDE'S CHOICE TABLE GALLERY WINNERS
First Place: Elegant Assets Historical Event Center
Second Place: Event Rental and More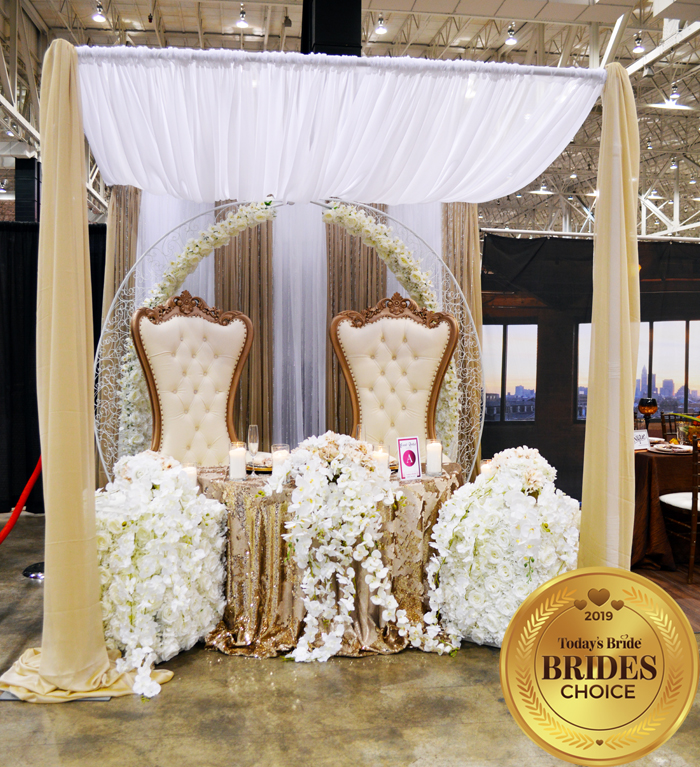 Third Place: Cleveland Marriott East
BRIDE'S CHOICE CAKE GALLERY WINNERS
First Place: Rito's Italian Bakery
Second Place: Jenni Pops
Third Place: Rito's Italian Bakery