May 6th Bertram Inn Bridal Show Booth Design Awards
It's easy to get lost at the Bertram Inn. When you're surrounded by 60+ vendors, 300 brides, and shopping between 2 buildings, it's even easier to get overwhelmed! As an exhibitor, it's important to stand out and make a great first impression on brides at the show. These booths designs excelled in making a visual impact that lasts.
Tracy Heck Photography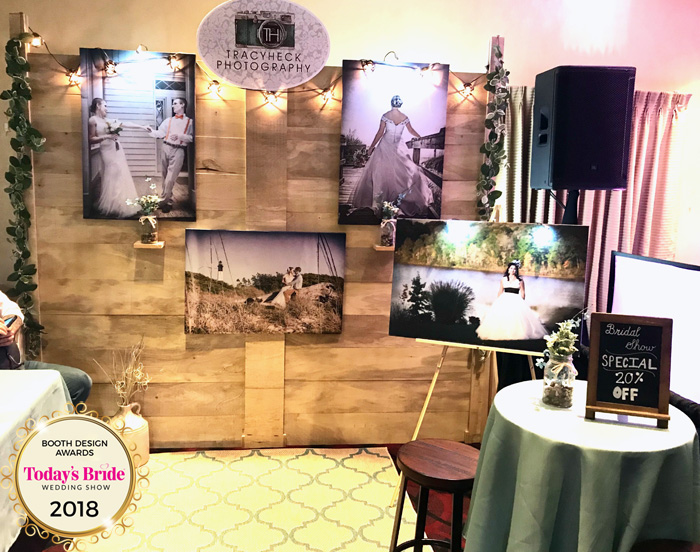 Tracy Heck Photography brought new meaning to the word "rustic" in a way we've never seen.  Clutter-free, fresh, minimalistic.  They added dimension to a simple wooden backdrop with shelves, lighting, and greenery.   Prominent signage up high made it easy for brides to see who they were from several booths away, and their bridal show special was conspicuously displayed at the front of the booth. Touches of woodsy decor – like their primitive jug, wooden stool, and jars of wildflowers – rounded out the theme of this booth and showcased examples of their work without detracting from their integrity.  Well done!
MK Sweets CO.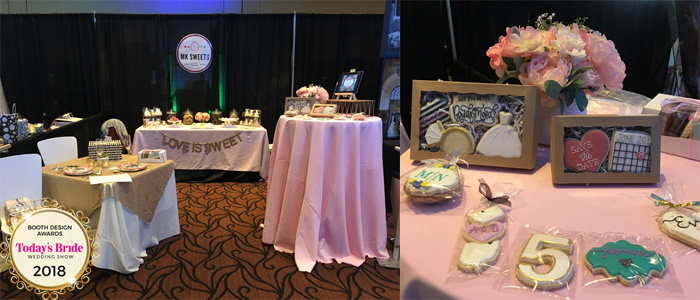 MK Sweets Co. took full advantage of their space and made a dynamic booth design using height, depth, color, texture, and shape – accurately reflecting the varying designs brides would find inside! With their signage, graphic t-shirts, and impeccable talent, they branded themselves, making it easier for brides to recall them later. Their booth layout and decor – varying tables, millennial pink linens, table settings, their own chairs and dessert spread – was reminiscent of what you'd find at a wedding or bridal shower.  By demonstrating exactly how what they could do for a bride, their design made it easy for brides to imagine at their own event and eager to book. We're proud to say their vanilla almond samples passed the staff taste test.  Nice job!