Choosing the Right Bridal Show for You
Bridal shows are one of the best marketing options for wedding businesses. You get to meet hundreds of brides face-to-face who are actively looking to hire services like yours. However, if you choose the wrong show, you could waste valuable time and money without making great connections. The tips below will help you ascertain whether a show is worth doing.
what's their reputation?
The first question you should ask yourself is "Have I ever heard of this bridal show?" Have your colleagues or peers? If the answer is no, that's a red flag. Odds are, brides have never heard of it either. If the answer is yes, what's their reputation? Are they known to bring in a lot of brides? Have others in the industry told you that it was more of a networking event for businesses rather than meeting brides? Do they charge for every little service, like electricity, leads, tables and chairs, etc.? You want this show to be worth your investment, so do some research to see what others have to say about it.
Do they advertise?
When you search bridal show on Google, Today's Bride is always the first to come up. When you're driving on 77, you'll see Today's Bride billboards. You may hear the "If you're a bride to be, the place to be is the fabulous bridal show!" jingle on TV or radio around January. And when you're scrolling through Facebook and Instagram, you're likely to see sponsored posts and ads for Today's Bride. That's because we put a ton of money into advertising our shows! We want the show to be as successful for you as possible. To do that, we need to get engaged couples in the door. If you do a show that isn't advertising, that means they're simply pocketing your money, which does you no good! No one is going to come to a show if they don't know it's happening.
consider the pricing.
Of course, choosing the right show is all about the price, too. You won't pick a show that you can't afford, and a show with a lower price tag is going to sound more appealing. However, you should ask yourself why the price is so much lower. If the venue is in Canton rather than Cleveland, then the price drop makes sense. If the show is simply hosted at a smaller venue, the price may seem intriguing, but keep in mind that a smaller venue means a smaller crowd. Finally, lower prices are also more affordable to Sally who just planned her best friend's wedding and now wants to be a wedding planner, or Jack who just got a Nikon D850 and is now a "wedding photographer." A higher price tag means a higher caliber of vendors. This means less competition (and competing with inexperienced newbies) and more networking opportunities.
Keep it local.
Supporting Small Businesses may be popular the Saturday after Thanksgiving, but Supporting Local Businesses should happen everyday! When big name trade shows come into the area, they know nothing about the culture, industry, or people here. They don't know which spaces are best for bridal shows, which areas are high traffic vs. run-down, and what kind of features will draw a crowd. Bridal shows in California, Colorado, or Florida are going to have different crowds, different features, and a different goal than what you would expect at an Ohio Bridal Show. Even Columbus & Cincinnati bride's may have a different perspective and vibe than Cleveland brides. Bridal show producers from Northeast Ohio have a better understanding of the area than outsiders and will therefore put together a better show.
customer service is key.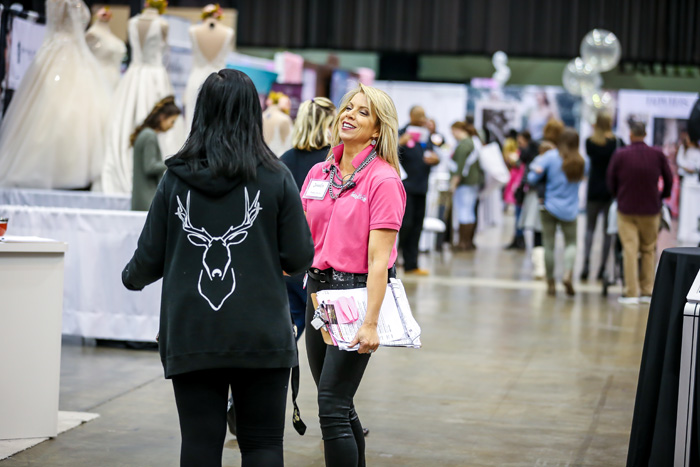 National Bridal Show producers can offer big shows, but can they offer a good relationship? A company that big cannot interact personally with all of their clients because they wouldn't have the time! They hire a skeleton staff to work individual shows. This staff will struggle to offer helpful tips or problem solutions since they are not directly involved with the process. And if you happen to have a complaint, you're going to have to wait 3-5 business days for a reply. A National Bridal Show producer may look bright and shiny, but won't be able to give you all that you need. With Today's Bride Shows, we send emails in the weeks leading up to the show to help you prepare. We have a direct phone number you can call with any issue to be resolved THAT DAY, and our full-time staff is on-hand at every show to answer any questions.
---
There are a lot of bridal shows to choose from, and you never want your investment to be a waste. Make sure to do your research before committing to one. You'll want a show that brings in the brides, spends your money on you, and offers exceptional customer service – all things you can find at any Today's Bride Show. Check out our upcoming show dates here.