Promote Your Presence
It's important to let your clientele know when they have an opportunity to view your work and ask you questions. Stated another way, brides want to know whether you'll be promoting your services at a bridal show. Let them know where you'll be and how to find you with these simple tips!
Brides. Love. Free.
This rule doesn't just apply to brides. In fact, there's not a single person we can think of who doesn't love the idea of free tickets! You – as a vendor – have free tickets to give away to promising clients right at your disposal! Take advantage of such a huge incentive by letting your followers and customers know of the goodies you can bestow upon them! Not only will your free tickets introduce them to your name and services, but there's also a 99% chance they'll stop by your booth while they're there.
Run a Special or Host a Contest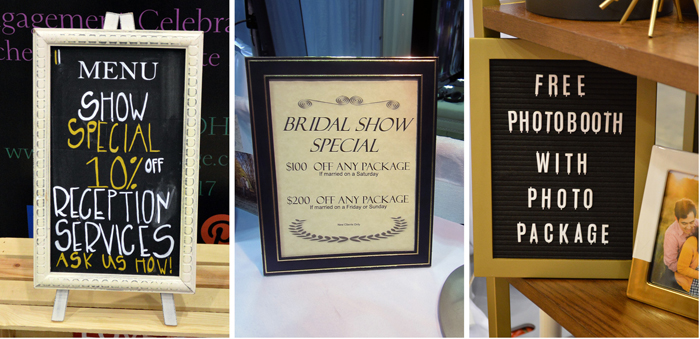 Who doesn't love to win something? It's an innate quality that lies deep within every human being – the need to win. We are all competitive by nature, and if we are presented with an opportunity to win something – whether it's an item or a discount on a service. You can promote your company and the fact that your clients can come see your work by saying "Stop by my booth at the Today's Bride Show on August 26th for your chance to win a free veil!" Appealing to that competitive nature is a great way to build intrigue and draw brides to your booth.
Informing your clients of the special you'll be running on the day of the bridal show is another great way to have them stop by your booth. Let's say a client comes in to discuss flower choices. She likes what she sees, but she isn't quite ready to commit that day. Let her know that you'll be running a special at the Today's Bride Show – if she buys her bouquet, she gets her groom's boutonniere free! This offers the bride an incentive to come back and will help her make the choice quickly rather than sitting on the decision.
---
want more bridal show tips? we can help!
---
Social Media
We talk about social media so much that you're probably tired of hearing about it by now. But we're adamant about maintaining it because we truly believe it is such an incredible tool to reach millennials! Let's talk Facebook. Keeping your news feed up-to-date – as in, posting at least once a day – is key. Make sure one of those posts each week has to do with the show you'll be exhibiting at! You could promote your show special, share a Today's Bride post or the event page, mention stopping by your store or studio for free tickets, or just share a picture of how you're preparing for the show!
If you have a Pinterest, post some pictures from past shows you've been in. What should visitors expect when looking for your display? Do you have a particular trend that you'll be showcasing at this show? Inspire these brides and get them excited to see all the new trends by giving them a sneak peek.
Is there one piece of advice you'd give every bride if you could? What about a question that you hear asked over and over again? Most brides think along the same wavelengths, so by posting content that answers questions they want to be answered – or even teases at an answer "Learn more at my booth at the Today's Bride Show this October" – will light up that intrigue and get them curious to know what advice you can offer them.
Tag @todaysbride in all of your social media posts!
Today's Bride is very good about updating its social media, so feel free to retweet us on Twitter or share our own posts on Facebook about the show! Tag us in your tweets, and we'll like or share them, too! Plus, every time you tag Today's Bride, you can earn points towards winning some awesome prizes!
Banner Ads
Banner ads are a great resource to use anywhere you're promoting your brand. Regardless of whether a show date is approaching, letting prospective clients know that you've exhibited at a Today's Bride Show before, or have been featured in our magazines or Real Weddings lets them know that you are a reliable wedding professional. Link them to your homepage on your website, customize your cover photo on Facebook or Twitter using our pre-made banners, and share them with event info you post!
---
We can't wait to see you at the show, and neither can the brides! Let them know that you'll be exhibiting your work, answering questions, giving advice, and signing contracts to get more brides to stop by!