2020 Booth Design Winners – January Akron Show
WOW – that's all we can say! This year, all of our vendors at the John S. Knight Center wedding show in January blew us away. You each brought creativity and beauty to your booth designs, and your hard work paid off. These are some of the most original and welcoming booths we've ever seen. Choosing a Booth Design Winner is never easy, and we're so proud of our vendors that made the list.
Acme Fresh Market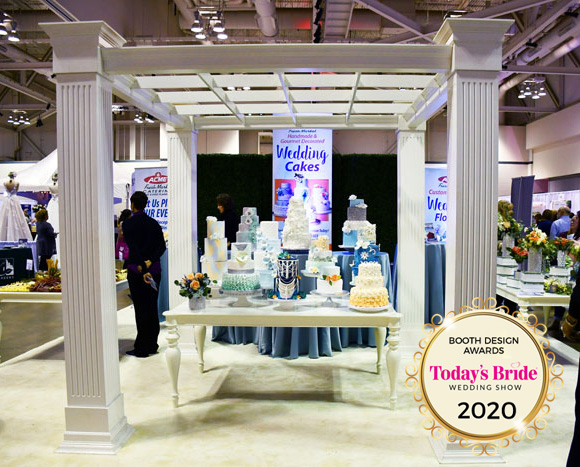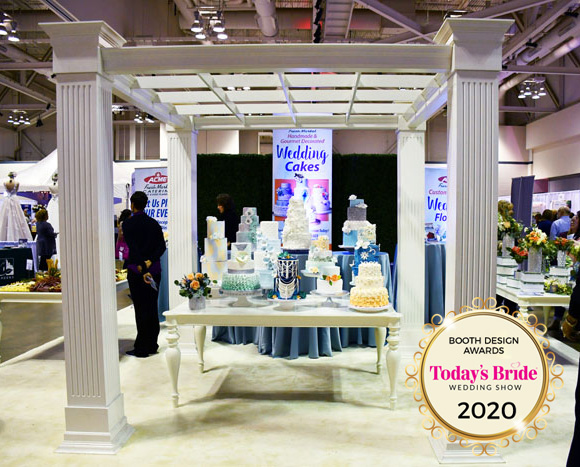 With this attention-grabbing Pergola, chic furniture, and dynamic displays, Acme Fresh Market blew this booth design out of the water! Show attendees couldn't help but be drawn into their space, and neither could we. Their clear signage, emphasized by trendy uplighting, assured that visitors knew exactly what Acme Fresh Market could provide for their wedding. Those GORGEOUS cakes and bouquet displays had guests buzzing!
Pine View Acres
For the second year in a row, Pine View Acres showed off their amazing design skills with this adorable booth! This 20-foot boxwood wall paired with the plush carpeting and adorable furniture made for an attention-grabbing display. What bride wouldn't want to spend time in this booth checking out the venue's portraits, or gawking at that gorgeous reception table? Pine View Acres was able to communicate effectively how dynamic their reception venue is while creating an inviting space for visiting brides.
[Roke]star entertainment
If their sparkly suits weren't enough to grab your attention, how about this PHENOMENAL display? [Roke]star Entertainment knows how to spice up a party, and their booth design directly communicated that. From the marquee letters to the pink uplighting (very on-theme, guys), show attendees could see exactly what [Roke]star Entertainment could bring to their big day. Liza and her team were energetic and inviting, assuring that each passer-by felt the need to stop and learn more.
seifert's flower mill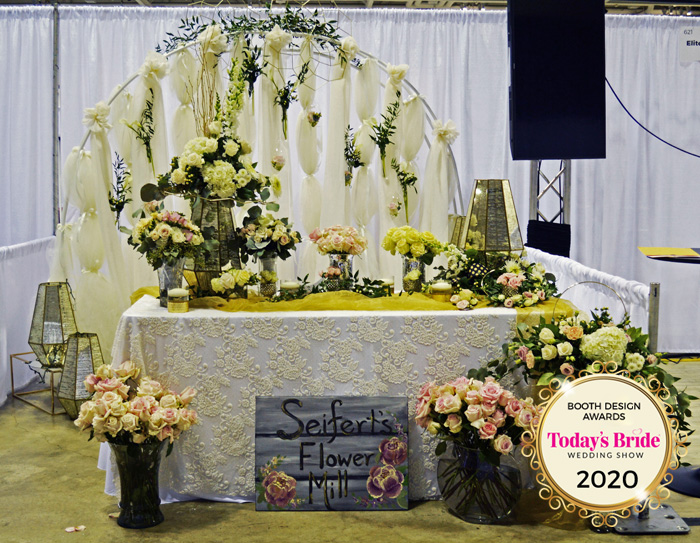 We were incredibly impressed with this floral display from Seifert's Flower Mill. Any couple could imagine themselves saying "I do" in front of that dreamy arch with floating greenery and blooms. Their use of trendy floral pieces like hydrangeas mixed with classic flowers like roses assured that every bride could find her style reflected in Seifert's booth. While their display drew the bride's attention, their warm smiles and conversations are what kept the brides coming all day long.
sitting pretty linens
Sitting Pretty Linens used dynamic draping, unique lighting, and a gorgeous ceremony arch to prove to attending couples that they are experts on design. Couples couldn't help but admire their chic booth design! The space was decorated enough to garner attention, but large enough for couples to step in and admire the decor up-close. Paired with their noticeable signage, this booth was the perfect recipe for success.
walnut ridge leather co.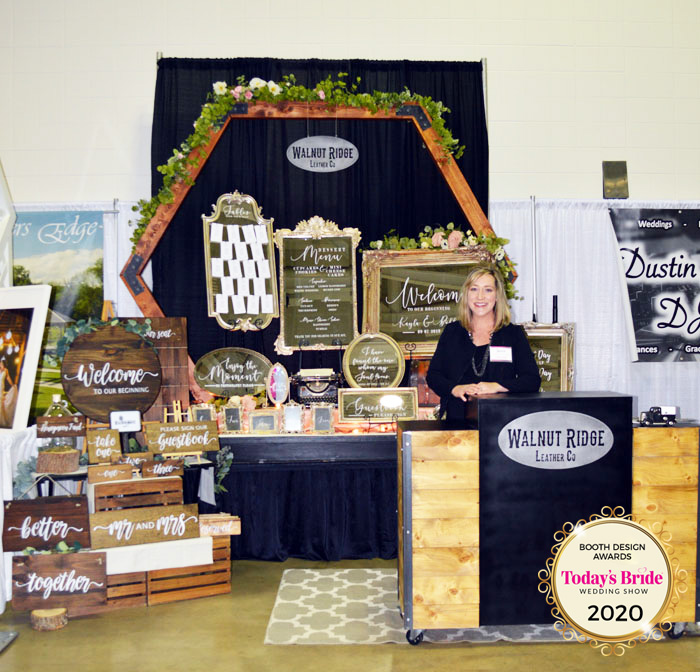 The best booth designs have two things: they plainly communicate what your company does, and they have plenty of signage with your company's name and other important bits of information clearly displayed. Walnut Ridge Leather Co. met and surpassed those goals! From rustic to sophisticated, Walnut Ridge Leather Co. checked off every wedding style's box. Because their name appeared on multiple levels and in various sizes, attendees had a higher likelihood of remembering their company's branding and product. There was even room for couples to approach the booth and admire the signage up-close.