2020 Booth Design Winners – January I-X Center Show
Just like that, our January show season is behind us. But just because the shows are over doesn't mean your amazing booth designs have been forgotten! We love to recognize those that went above and beyond to give visiting attendees dynamic displays to look at. We wish we could give out 40 – but here are the Top 7 Best Booths at the 2020 January IX Center Show.
Boss pro-karting  – newcomer award
Boss Pro-Karting's booth design reflected so uniquely them.  Looking at this booth, there's no question about the service that Boss Pro-Karting provides. Each element of this booth supported their brand – the color scheme, the decor… Putting a WHOLE GO-KART in your booth is next-level. This first-time vendor hit it out of the park!
brass key photography
These long-time Today's Bride veterans know how to keep their booth design fresh year-to-year. Brass Key Photography made sure that every passer-by knew their name (and wedding service) by putting it in lights. They added chic flooring, trendy lighting, and decor that supports their vibe, and "elevated" it with the ladders. Add their stunning portraiture to the booth, and you've got a statement-making display that tells the visiting couples everything they need to know about Brass Key Photography before they get a chance to say "Hello!",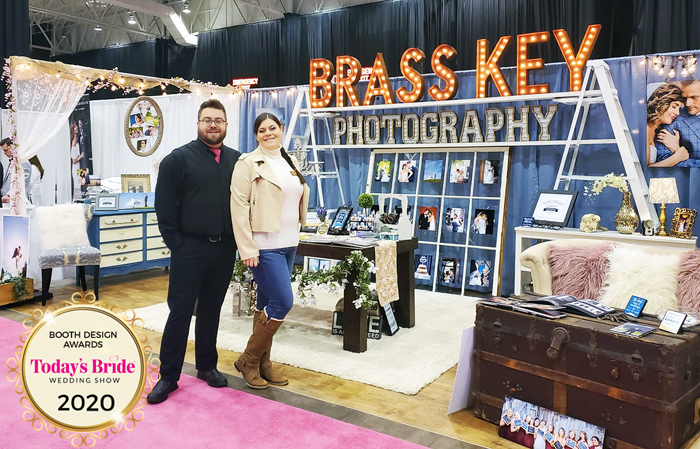 juliana cole photography – newcomer award
Would you believe it if we told you this was Juliana Cole Photography's first time exhibiting? Juliana made excellent use of her space by putting visuals at every level. From the Peacock Chair to the eucalyptus, visitors were hooked. She hung her name on a trendy canvas, had a show special front and center, and arranged her photos in an eye-catching display. Her cohesive furniture design paired with trendy decor pieces made it a must-see for every visiting bride and groom.
pink tomato creative
Pink Tomato Creative truly lived up to their name at the I-X Show. How creative and fun is this booth? By clearing out the center space and adding two cocktail tables, Jodi created the perfect space for conversation. Perspective clients could walk through what felt like a gallery of Pink Tomato's invitations, with examples of her work on all levels. They could then sign up to receive more information, or chat further with Jodi about their vision. Clean lines and signage can take you far, as Pink Tomato Creative proved!
so bloom – newcomer award
This booth by So Bloom is SO amazing! The booth design emulates popular trends. With the balloon display, golden palm leaves, and geometric centerpiece, So Bloom gave brides and grooms all sorts of inspiration while showing off their skills. They even included small gift bags for visiting couples to remember them by. Their furry rug and rose gold tablecloth elevated the booth design to the next level.
Selective sound entertainment
It's hard not to L-O-V-E this display from Selective Sound Entertainment. This towering set-up featured clear signage and branding throughout. The monitors perfectly positioned above heads (but not too high) listed off each service Selective Sound offers, so not a single perspective client could miss it as they passed by. The uplighting added some exciting color against the gray backdrop. And come on, who doesn't want to walk on the red carpet?
sun valley – newcomer award
This booth design from Sun Valley compactly conveyed exactly what couples could expect from their venue in just a 10×10 foot space. The trendy boxwood wall paired with the dynamic linens and adorable bistro lighting kept the booth trendy and fun. Enhanced with plenty of photos at their venue, couples could easily picture themselves saying "I do." As another newcomer to the Today's Bride Show, guests were so impressed with their ambitious and excellent design.