I'm a Hypocrite, Are You?
Every so often, I'm guilty of buying based upon price. There, I said it. But, that makes me a hypocrite. I want my customers choosing me as their speaker, mastermind leader, consultant, or for a website review, not because I'm the cheapest price; rather, I want you choosing me because you feel, for that particular need, that the value you'll get exceeds the cost.
If the return on your investment, exceeds the cost of the investment, then it's probably a good choice; however, not all 'returns' are the same, and not all investments are the same.
I recently shopped around for home and auto insurance. The thing is, I like my current company. They have great customer service, and, in the times we've had to make claims, the service has been wonderful. So, why did I shop around? I got another increase in rate, and when I looked back, I had been increased every 6 months (on the auto) and every year (on the home). I wasn't looking to make a change. I was looking for verification that my rate was still fair. I don't need them to have the lowest rate, when their service is so good; but, I do need them to be somewhere in the same ballpark as other, high-quality companies.
Let the search begin I requested quotes from other, well-known companies. I requested quotes through different affiliations (AAA, Costco, etc.). I contacted the companies that do a lot of TV advertising, promising to save you significant sums over your current company. Most of the quotes that I got, were similar to what I was paying. Maybe a little more. Maybe a little less. That was reassuring, although I was a little disappointed I didn't get a lower quote. I was also disappointed that, when I emailed my current agent, no one got back to me.
Then something interesting happened. I got a quote through AAA, one of my affiliations, that was significantly lower than the others I had received. At first, I thought it must be a mistake. Maybe it was a 6-month rate, instead of a year. I sent the agent my current policies, and asked him to please check, line by line, and tell me what the differences were. All major line items were the same, or better, on both the home and auto. It was a 45% savings on both the home and auto policies. I don't mind paying a little more, but I can't see paying almost double.
Double down, or fold? So, why would someone pay double, or even more, for your service, or mine? The difference is in the perceived value. For auto and home insurance, you're hoping to never need to use the service. It's kind of funny, when you think about it, but we pay in, every year, and hope that we never need to collect. That's especially true of life insurance! You don't tend to find out how good they are, until you need to contact them.
For your service, or mine, people are going to start to see the value, from the first time they interact with you, your marketing, or your website. They're buying something they want, or need, and it usually affects more than just them. For weddings and events, people buy outcomes, not processes. They want great food, but most don't care how you make it. They want a fantastic video, but most don't care how you shoot or edit it. They want beautiful flowers, dresses, invitations, jewelry, and more. But most aren't interested in the process, just the end result.
Looks the same to me I was OK spending a lot less for my home and auto insurance, because I believe that the new company will be there if I need to make a claim, will continue with friendly customer service (as they have – so far), and that they will live up to the terms of the policy. If they had been nasty, or indifferent, in my dealings with the agent, I wouldn't have made the switch. I even had to call the customer service line with a question, and the woman who answered was extremely friendly and helpful, validating my decision.
I've said this many times before, if you can't perceive any difference between companies, the lower price will win. It's not whether there actually is a difference. It's whether you can perceive one. It's the same for your couples; if they can't perceive any difference between what you're providing and another company, and if they also like them, trust them, and believe they'll deliver an acceptable outcome, then a lower price, or better responsiveness, or better customer experience, will win.
Do unto others So, I'm really not a hypocrite, at least not in this case. I shopped exactly the same way I would expect others to shop for me. I'm competing with people who will speak for a lot less, or even free. Some of those people do a decent job. Some may even do a very good job. But, if my client can't see any difference between having me speak, versus anyone else, then the lower price will win. Everything I do, from my presentations to my website, from my professionally-designed marketing to the way I interact and communicate, is designed to show what's different about choosing me.
What are you doing to differentiate yourself from your competitors, other than price? Are you making important business decisions based upon price? Are you choosing the cheapest printing for your marketing, or are you hiring a professional graphic designer? Did you make your website yourself, or did you hire a pro? Are you looking for every free way to promote yourself, or are you investing in the best placement, on the best sites? I'll tell you what I tell my clients; invest more in yourself and your business, if you want others to invest more in you.
---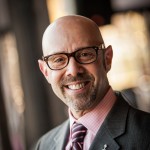 ALAN BERG, CSP
If you'd like to find out how Alan can work with you and your team, whether you're a team of one, or dozens, reach out to him. He's worked with businesses both virtually (phone/internet) as well as on-site at venues, bridal salons, entertainment companies, and more. To find out how he can help you, with sales training or a website review, email Alan@AlanBerg.com call 732.422.6362, international inquiries 001 732 422 6362 or visit his site www.AlanBerg.com