10 Tips for a Successful Wedding Show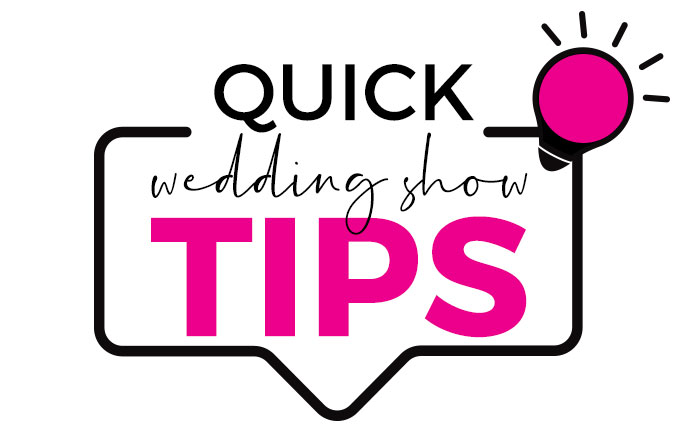 1) PRE-PROMOTE YOU'LL BE THERE
Invite prospects to the show to meet you, pre-promote your show special (you may even get sales prior to the show!), and let them know you have free tickets for guests. They will make you a destination at the show. Spread the word through your social media, website, voicemail, and e-mail. Check out more tips & show banner graphics here.
2) Make Your Display Work for You
You have only a few seconds to make an impression. Make sure that the attendee can look at your booth and know exactly what you do within seconds without talking to you. Make your display attractive and inviting, but don't overdo it. And think UP making use of your vertical space. Need inspo & help? Booth Design Photos // Booth Design Regulations
3) Present Yourself in the Best Possible Way
Your business will be judged by the appearance of your booth and the attitude of your staff. Dress appropriately. Put your cell phone away. Be prepared with a rehearsed, practiced, and polished sales presentation that tells the prospective customer who you are, what you do, and the benefit you provide. Check out these Booth Salesperson 101 tips.

4) Have an Effective Promotion Piece
You must have something that the attendee can take home. Your promotional piece will go into a bag with many others so it is important that it stands out. Don't stack your brochures. Hand your literature to them and tell them what it is, why you are giving it to them, and what they should do next. Be sure your literature has a call-to-action on it such as a promo with an expiration date. Write an appointment reminder with date/time on it as a reminder.
5) Avoid the Terrible "Toos"
Don't put too much, or too little, in your booth. Don't arrive too late to prepare and set up your display. Don't pack up too early (refer to your show rules!). The last hour of the show historically has been the best opportunity to close sales at the show. Make use of this time to network with the other exhibitors, who can be your best referrals.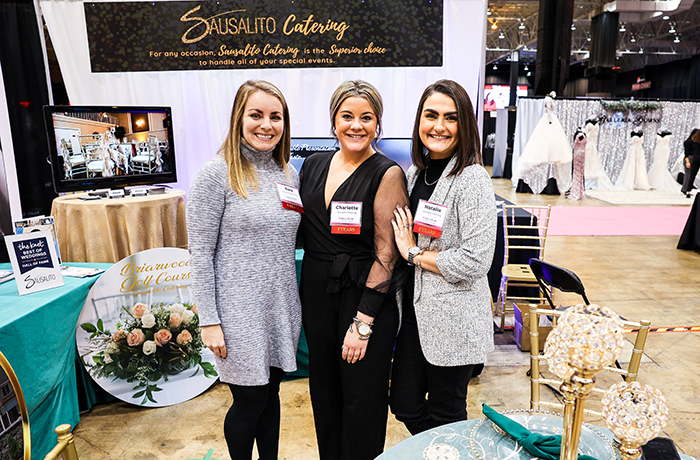 6) Don't Sit Down
Always appear interested and ready to assist your potential customer. Don't make the prospect feel that they are interrupting you. If you look busy, preoccupied, or bored, they will simply move on to the next booth. Consider bringing bar stools to lean on staying eye-to-eye with your future customers. Wear comfortable shoes and consider renting carpet or soft flooring in your booth.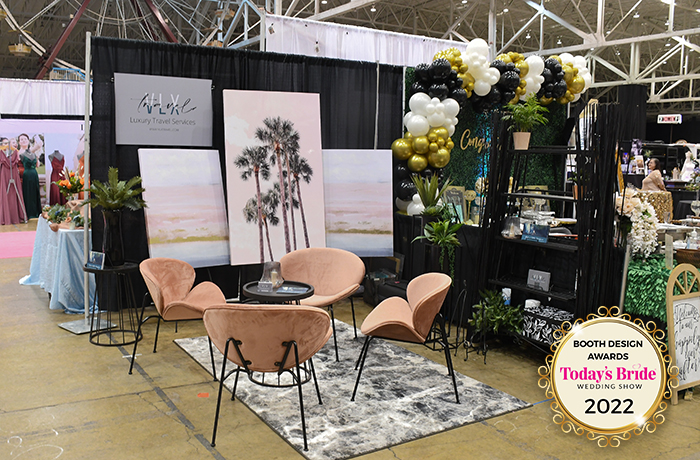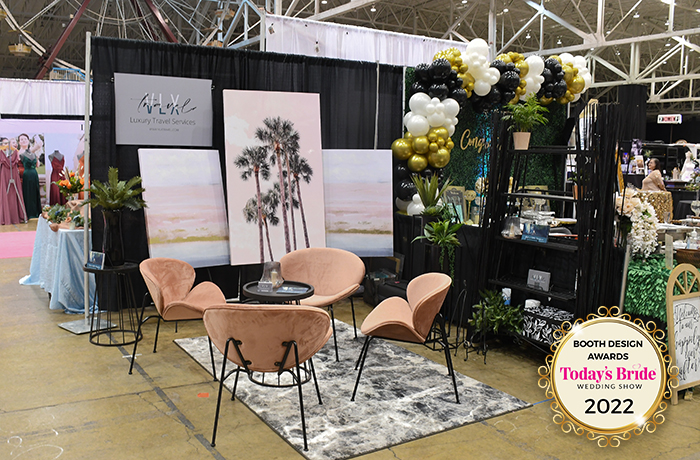 7) Do Something Different
Your booth will have a greater impact if it stands out from your competitors with large-scale graphics, signage, lighting, special linens, and unique decor.  Reflect your office space (branding and company culture) into your booth design to be remembered. Attendees will remember the cool photographer with the hot pink loveseat. Or, the travel agency that had palm trees, beach sounds, and the soft scent of coconut oil in the exhibit. They might not remember your name, but they'll remember your space.
8) Qualify the Prospect
Take a moment to find out if the engaged couple you are talking to has a need for your product or service before wasting too much time.  Be polite to everyone! Remember that the fiancé, families, and friends who accompany guests to the show have a lot of influence on decisions. Especially moms! When talking to the attendee, make eye contact with their guests too and engage everyone in the conversation. Those bridesmaids standing behind the bride may be your future customer.
9) Focus More on Making Appointments vs Sales
Shows provide you the opportunity to reach many prospects in a short period of time. Set goals for a number of hot leads or appointments you want to book at the show and the week following. Set long-term goals for bookings. Some sales could take up to 6 months to 2 years later to come through. To capture as many hot leads as possible, do not spend too much time with any one attendee. Do have your available dates on hand. Be prepared to set up appointments.  And be prepared to book business at the show if the client is ready! Don't be timid about asking for a deposit to secure your date. This can be done tactfully without coming across as pushy.
10) Follow Up
The leads you acquire at the show are very valuable! Have a plan in place to collect leads at your boot. Collect leads electronically or the the old fashion way with pen and paper. Feel free to use this Lead Card Printable at your booth! Have a plan to follow up on leads as soon as you leave the show. Do not let your hot leads turn cold! Your competition may beat you to closing that lead.  Download the show lead list as soon as it's ready. Follow up routinely leading up to their wedding date. Visit Follow Up Video Tips to learn more!