October Show Booth Design Awards
Trying to choose winners for the Booth Design Awards from the October 15th Show had us sweating almost as much as we were at the show! You all pushed the limits of what you can do with a 10″ x 10″ space and we applaud your creativity! With all the innovative and inspiring designs, we struggled to narrow it down to just a few winners, but we felt these designs deserved a special shoutout.
ivory ink
Ivory Ink created a storefront within their booth. Not only did Emily bring a great display of her work to attract brides, but their backdrop was clean and modern and framed a catchy sign that clearly stated their company name, services, and directed brides to their website. Using vibrant colors in their rug and settee paired with industrial touches of metal and wood, Ivory Ink put together an attractive and inviting space for brides to browse and hang out!
jadie foto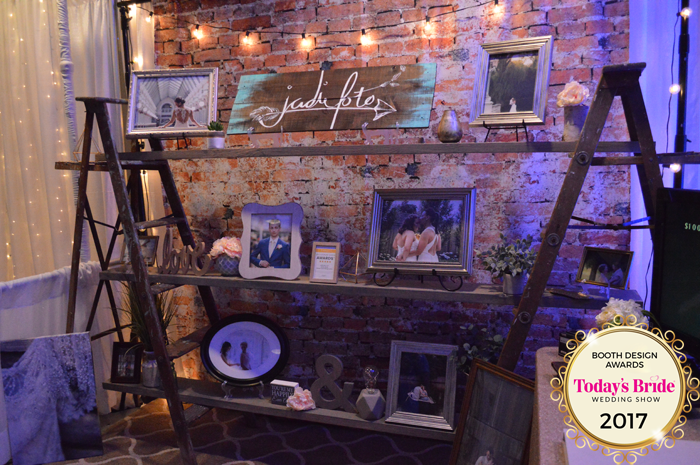 Instead of going for a Gallery-type feel, Jadie Foto took a different approach. Setting up a DIY bookshelf that brides could imagine in their own homes, she displayed her wedding photos in a way that brides could see doing themselves. Being a show veteran and learning the sweat & tears that go into hauling a heavy wood backdrop structure, this time Jessie opted for a faux brick vinyl backdrop and twinkly lights.  It's obvious that Jadie Foto knows her audience. Clear signage and noticeable show specials round out this booth to combine all our "best booth tips" for an appealing design!
I heart life
While papers may get tossed out or lost, I Heart Life's "To have and to hold your hair back" promo takeaway is sure to be used, remembered, and appreciated by prospective brides! Not only is this promo a cute way for Valerie to stand out among her competition, but the booth was welcoming and cozy, too! Displaying her wedding special up front made brides stop and drew them into her booth where they could sit in comfy seats and flip through her albums.
simply catered cupcakes
Cupcakes immediately appeal to the child within each of us and we can't help but sneak just one more! Simply Catered Cupcakes played off that call to our inner child by bringing us back to the days of lemonade stands. This creative booth space showcases their talents visually and tastefully, as brides could take free samples! Again, she clearly displayed her company name, services, and show special – just a few reasons why this booth is so successful.
sound precision entertainment
Every bride deserves a red carpet experience, and Sound Precision Entertainment made that possible! Video and audio were just the beginning to the attraction that drew brides to this booth. The steel backdrop was illuminated by uplighting and ornamented with examples of their work. Brides could take a journey through their booth, seeing examples of their photography, DJ, photo booth, and videography options.  This is a perfect example of a veteran exhibitor reinventing their booth dynamic.  Well done!
---
Visit our past show galleries to see some other successful booth designs, or browse through our Pinterest board for more inspiration and ideas! Don't forget to sign up for our upcoming January Shows at the John S Knight Center and I-X Center for another chance to win!