August 26th Bridal Show Booth Design Awards
This year's August Bridal Show at the John S Knight Center was an inspiration once again…and not just for brides! We were impressed by the new exhibitors who came in with a veteran-status vision, and inspired by the vets who reinvented their booth space in an imaginative and attractive way. Check out some of the fan favorites!
Gervasi vineyard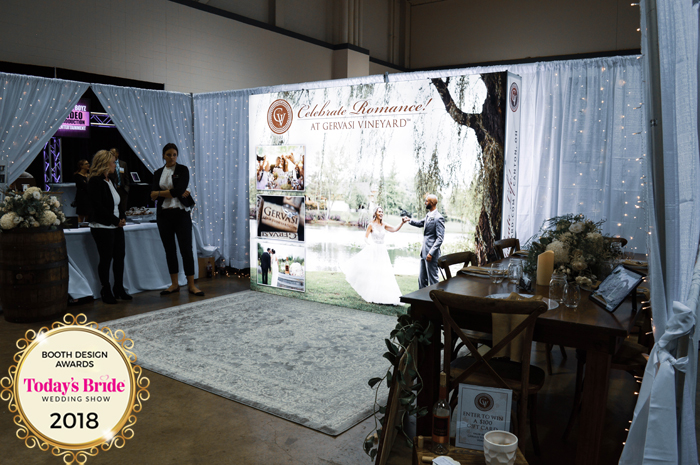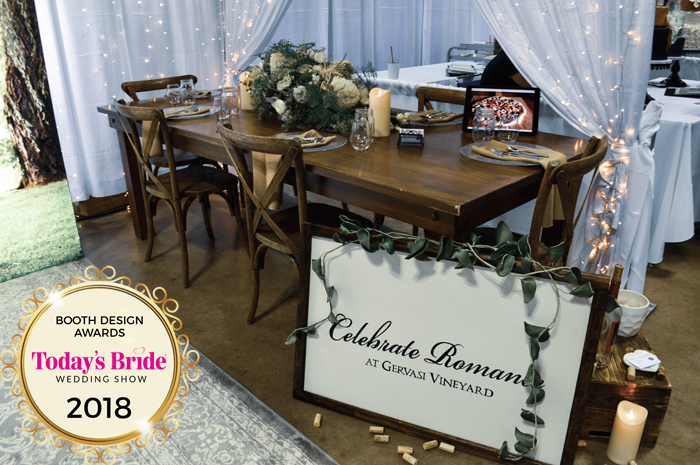 Gervasi dazzled visitors with their brand new backlit sign! They left ample open space to welcome in couples and talk to them about their venue without feeling crowded. Their set reception table not only reflected their venue, but was also on trend, attracting brides to stop and stare.
The Little Red Barn
The Little Red Barn packed a punch within their 10×10 space, and proved that sometimes, more is more! They brought the ever-popular rustic theme to life with aged decor and antique furniture. Angling their table and bringing smaller items to the front, they added depth to their space, taking advantage of every inch.
Mod – matter of design
MOD – matter of design wowed attendees with their homey scene. They chose to bring a selection of furniture and statement pieces that every newlywed wants in their house, such as sturdy, yet space-conscious tables, quality fabrics and linens, and conversation-starting pieces of art.  What a great way to promote their new Wedding Registry service.
OH Snap! Photography
OH Snap! Photography made the smart decision to take down his side wall and leave his corner booth open, inviting guests in from all sides. His blend of larges canvases and ornate frames easily conveyed what services he offered, while the luxurious lighting and linens made attendees want to stop and peruse his albums of work.
---
Well done to everyone who exhibited at the John S Knight Center Today's Bride Show and made it such a huge success! This show once again made the lives of engaged couples easier while helping to connect you with more prospects. Your booths served as your storefront for a day, and you didn't disappoint!