Most of the exhibits at this event do not come with pipe & drape backdrops.   If you have specific booth location questions , contact [email protected] or 330-670-9545 to discuss several weeks before the show. The same standard rules apply below to avoid blocking line of sight to your neighboring exhibitors.
---
Linear Booths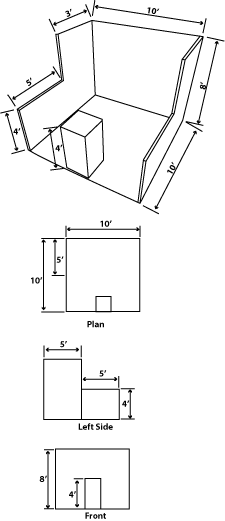 Below are the booth design regulation guidelines for a SINGLE BOOTH (9′ x 9′). Double Booths follow the same guidelines for the back wall and sides of the booth that are connected to another booth.   
Dimensions For purposes of consistency and ease of layout and/or reconfiguration, floor plan design in increments of nine feet (9') has become the de facto standard in the United States. Therefore, unless constricted by space or other limitations, Linear Booths are most commonly nine feet (9') deep, i.e. 9'x9'. A maximum back wall height limitation of eight feet (8') is generally specified.  There may be an exception depending on your booth location and design of your backdrop.  Contact Today's Bride at least 30 days in advance for approval and limitations, 330-670-9545.  Displays taller than 8′ must be tastefully finished on the back side.