Rental & Printing Services
Online Exhibitor Manual:
Additional rental items
Create a dynamic booth display and stand out from the crowd.

Akron Show!
Miller's Convention and Trade Show Service can help!   Miller's is the official booth decorator for the August & January Akron Shows. Miller's is offering discounted pricing on various rental items. The items will be placed in your booth space the morning of the show unless you prefer to pick them up at their warehouse.
CONSIDER RENTING:
High Cocktail Tables  •  Bar Stools  •  Chiavari Chairs  •  Farm Table & chairs  •  Wine Barrels  •  Lighting  •  Specialty Linens  •  Backdrops …and more!
JSK ONLY – Deadline to order booth and Inspiration Gallery rentals is January 2nd!  Inspiration Gallery rentals are complimentary, but booth rental payment is required at time of order directly to Miller's. Please call Miller's at 330-753-9104 with any questions and to place your order. 
---
CLEVELAND Show!
I-X Center has their exclusive decorator services in-house.  For a list of the most common rental items, refer to the I-X Exhibitor Services Guide.   For more options or questions, contact I-X Center Customer Service 216-265-2500 or [email protected] The items will be placed in your booth prior to arriving during move-in.  
Advanced rental discounted rates

expire Jan 8, 2020
---
Trade Show & Marketing Displays
Today's Bride now offers custom design & printing services.  High-quality products at super low prices.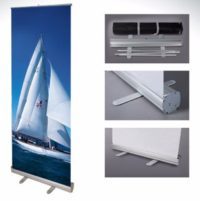 Banner Stands  •  Vinyl Banners  •  Table Runners  •  Canvas Wraps  •  8′ Backdrops  •  and more!
---
AUDIO VISUAL RENTALS
Rock The House is offering a special discount to all Today's Bride exhibitors on monitor rentals, truss, booth lighting, custom media creation, and more! 
Call 440-232-7625 -or- email 

[email protected]
---
Printing Needs
Need business cards, flyers, or postcards?   Today's Bride can help you!
Contact us with your wishlist and we'll get you a quote right away.  Design services available too!   330-670-9545 or

[email protected]

 
---
Need a good e-mail program?
We've experienced great success with a newcomer called Robly. More affordable and easier to use than other popular programs. Bonus, you have a personal one-on-one consultant at your disposal.

---